- Family owned for over 40 years -




Oak Orchard Canoe Kayak Experts




- Open year round -




www.oakorchardcanoe.com


Phone Order line (10am-6pm EST) ..................(800)452-9257
"Waterport" (between Rochester and Niagara Falls) ........... (585)682-4849
"Rochester" (on beautiful Irondequoit Bay) .............................. (585)288-5550
email us: oakorchardcanoe@rochester.rr.com
"Welcome to the BIGGEST - LITTLE canoe and kayak shop in the world"
W A L L S T O R A G E F O R Y O U R K A Y A K S!




Compare Oak Orchard's "J" against competitors' wood, bent aluminum or steel pipes with a plastic sleeve or strap hang! Yuk!


Same basic shape as our own incredible Kayak J-CRADLES, but at a reduced price to only fit a blank wall area. Made from Heavy Duty Stainless Steel. Designed to hold a single or tandem kayak, can be mounted to a studded wall or even a concrete block wall with optional TapCon® concrete screws! Add $28.50 for a set of 8 TapCons®, concrete drill bit and the TapCon® driver. Best installed with a hammer drill (not included).
Don't have a wall to store your kayaks on? - Click here to see our outdoor Kayak Tree.
$14.95 shipping & Handling one set
$8.95 Shipping & Handling per each additional set
New York State residents add 8% sales tax
$16.95 shipping & Handling one set
$8.95 Shipping & Handling per each additional set
New York State residents add 8% sales tax

Back side of our J-Storage Kayak Wall Cradle is pre-drilled
for screw mount OR see optional wall "Clip" hang.


We've had customers make their own back yard "kayak tree" using our "J's".
Some mount them to RV - trailer sides, post, tree and big power yachts!
Deluxe 3/4" Thick Real Rubber Padding!
3" inch wide, 3/4" thick, flat rubber area will hold your boat carefully. Not like competitors flimsy aluminum round 1" pipe with a plastic sleeve covering! Check them out... but purchase ours!
The typical garage wall can hold 3 to 4 kayaks high using Oak Orchard's J-STORAGE CRADLES.
Easy one person load - No dangerous ropes, pulleys or 2-3 people to load and pull.
Order the J-STORAGE CRADLE, today!

Top mid section of padding is purposely not adhered. Pull aside the padding in this section to reveal the pre-drilled mounting screw holes! Easy huh?? Weight Limit?? If you can lift it, our stainless steel wall J-Cradle will hold it. Beware of competitors light duty, one inch round aluminum tubing J's with a plastic sleeve.

Optional
Tapcon® Screw Package
for use on a concrete block wall. (Includes drill bit, TapCon® driver and 8 screws.)
$28.50 $3.00 shipping & Handling
New York State residents add 8% sales tax
Order Online with your credit card
OR
Log-in and pay thru PayPal

Have More Questions?...
Place Your Order by Phone
with A Real Live Person
1-800-452-9257
10am - 6 pm EDT
Closed Tuesdays


From the people who know and love kayaking...


World Exclusive! Oak Orchard's

STAINLESS STEEL Multi-Purpose KAYAK J-CRADLES

Fits All Factory Cross Bars - Square Bars - Lays Down Flat on Round Bars
-Removes Easily To Use As Kayak Wall Storage w/ Clip Kit. Choose from 4 styles - Standard, Stacker/J-Cradle, SUV & Storage Only!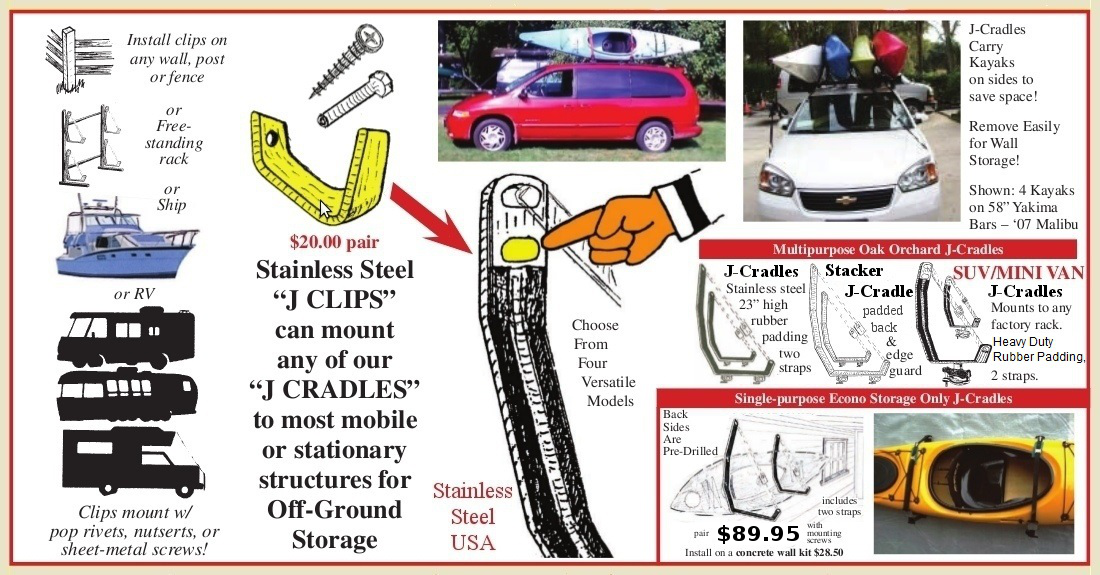 All Weather Stainless Steel (not plastic), Deluxe Rubber Padding,
Our Patented "Upside Down" - 4 Minute Easy Load - Strap System. (No Step Stool Required)
Fits All Kayaks! Short, Long, Sit-In, Sit-On! Even Tandems!