Oak Orchard Canoe Kayak Experts




- 38 years of Service -




www.oakorchardcanoe.com


Order by Phone(10am-6pm EST) ..................(800)452-9257
"Waterport" (between Rochester and Niagara Falls) ........... (585)682-4849
"Rochester" (on beautiful Irondequoit Bay) .............................. (585)288-5550
email us: oakorchardcanoe@rochester.rr.com
"Welcome to the BIGGEST - LITTLE canoe shop in the world"
KAYAK and CANOE TRAILERS
OUR FIRST RECOMMENDATION IS TO "CARTOP" CARRY YOUR KAYAKS!
WE CAN FIT ALL CARS & TRUCKS - 100% - CALL US!
This not being a viable option for your situation... Read on. There are a few benefits to trailering versus car topping. The first benefit is that it provides a place to store your boats when not being used. Second... You could be all loaded and ready to go with no big hassle. After this, trailering is a very unsafe way of transporting. #1... You will forget that you are in tow... that the load behind you is very, very light. You will drive too fast, cut corners too short and bounce off the curb. And in high winds - forget it! Get in line to access the put in ramp, find a place with enough space to park you car and 14' trailer. Maintenance of trailers. Keeping the light system working. If at this point you still want to trailer your boats - Oak Orchard's experience in this field is second to none. (We own and maintain 6 trailers ourselves.) Though we don't manufacture trailers - we "after market" manufacture the hardware to accept your kayaks or canoes on these trailers.
TRITON



Order Thru Us - or find a Triton dealer near you!
We SELL & MFG the components to convert this or any trailer to carry canoes or kayaks. Carry one kayak up to as many as 6 kayaks.
BUILD YOUR OWN TRAILER

Click Here

TRAILEX



Order Thru Us.

Carry one kayak.
Carry one Canoe.
OR
Carry multiple units.

Click Here

RACKANDROLL



This high-performance trailer is easy to
load with boats, bikes, cargo and everything
in between.
Available in 66" and 78" models.
Click here for more details.

Order Thru Us.



HOBIE



Hobie Trailers
made by Trailex,
fitted with custom hull
cradles for Hobie kayaks.

Click here for more details.


---

Triton Trailer shown below with our 18 Piece Conversion Kit and
optional extras: Gull Wing Kayak Saddles, J-Cradles and Storage/Lock Box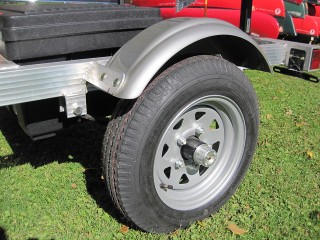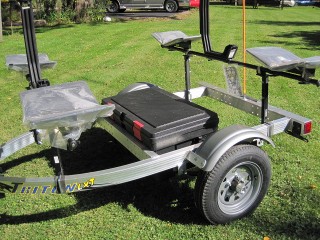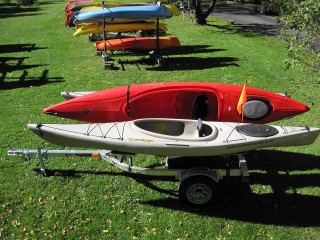 Optional:
Gear Box and Hanger


$199.95



Flip Up Tongue Stand


$79.95



Safety Flag w/ Stainless Steel Mount


$29.95

Standard:


• Oversized 12" Wheels
• 2" Coupler
• HD Plastic Fenders
• Galvanized Axle
• 3 Leaf Spring
• EZ Lube Wheel Nipple
• HD Aluminum Rear Bumper
All Welded ALUMINUM Chassis - USA
SUT 200 and SUT 250 Trailers can be shipped as a kit - UPS direct to you!
SUT-200-S Single Ultra Light Duty Carrier



The SUT200 trailer works Great for canoes or kayaks. The cradles on this trailer can be adjusted forwards and back. They also can be adjusted for boat width.

SUT200; $_ -call + $_ UPS -unassembled.

SUT-250-M2 Multiple Light Duty Carrier



FOR THE PERSON THAT HAS MORE THAN 1 CANOE, KAYAK OR SMALL BOAT. THIS UNIT HAS 250 POUND CAPACITY AND WILL HOLD 2 CANOES OR UP TO 4 KAYAKS. IT HAS ADJUSTABLE 72" WIDE CROSSBARS (FRONT TO REAR) AND A FULLY ADJUSTABLE AXLE, FOR TONGUE WEIGHT. ADJUSTABLE TIE DOWN LOOPS (6) ARE ALSO STANDARD. THE PERFECT "FAMILY TRAILER". IT IS 14' 11" LONG AND 72" WIDE (AT THE CROSSBARS). 1 7/8" BALL COUPLER
SUT250M2; $_ -call + $_ UPS -unassembled.

Hobie trailer; $_ -call + $_ UPS -unassembled.

SUT-450-M6
THIS TRAILER IS DESIGNED TO CARRY UP TO 6 KAYAKS OR 6 SUP BOARDS. CARRYING CAPACITY OF 450 POUNDS, OVERALL LENGTH 18' 3" OVERALL WIDTH 68". STANDARD WITH 24 ADJUSTABLE TIE DOWNS CLIPS AND VINYL COVERED CROSSBARS. IDEAL FOR A FAMILY WITH 4 OR MORE KAYAKS AND OR BOARDS. SO LIGHT ANY CAR WILL DO THE JOB. 2" BALL COUPLER

SUT-450-M6; $_ -call + $_ UPS -unassembled.

UT-1000-8
THIS ALL BOLTED ALUMINUM TRAILER HAS A 1000 POUND CAPACITY IT'S WEIGHT IS JUST OVER 300 TOTAL POUNDS. THE UNIT IS FULLY ADJUSTABLE AND IS DESIGNED FOR CARRYING 8 CANOES UP TO 18' IN LENGTH. THE ADJUSTABLE CROSSBARS HAVE VINYL EXTRUSIONS TO PROTECT YOUR BOATS. TRAILER IS 17' 5" LONG X 7' 4" WIDE AND OVERALL HEIGHT 8' 3". 2" BALL COUPLER
UT-1000-8; $_ -call + $_ UPS -unassembled.

---


Anodized aluminum trailers by Trailex, custom designed for Hobie. The best trailers for light weight and long, low maintenance, life.
Perfect integration with Hobies custom hull cradles.
Hobie offers custom padded hull cradles for our Adventure Island, Tandem Island and Pro Angler.
Hobie trailer; $_ -call + $_ UPS -unassembled.
---
RACKandROLL Trailers
Available in 66 and 78 inch models. This high-performance sport trailer takes style and performance to a whole new level. They're literally in a class by themselves, and they take the concept of "utility" from drab to fab with the premium aluminum finish and spiffy alloy wheels.

Carrying handle turns your lightweight trailer into a hand cart.
Shock absorbers provide four inches of wheel travel, cushioning your gear.
Includes Yakima crossbars.

The 66" Model weighs 150 lbs empty and has a 250 lb load capacity.
The 78" Model is 160 lbs empty and has a 300 lb load capacity.

The Crossbars of the 66 Trailer are 66" wide. The 66" trailer itself is 64" wide from fender to fender outside.
The Crossbars of the 78 Trailer are 78" wide - the widest roof rack standard. The 78 Trailer itself is 77" wide from fender to fender outside. We do not recommend installing 78" wide Crossbars on the 66" Model for safety and performance reasons.

Locking levers with keys prevent theft of your trailer. Wheels and tongue remove in seconds. Frame stores upright (or hangs) onto garage wall. Works with Class I, II & III hitches when a 1-7/8" sized ball is attached. Standard flat 4 light connector to vehicle. One year warranty.

All major components are anodized aluminum-6063. The wheels are custom cast and polished aluminum. The wheel and tongue pins are stainless steel. Most of the fasteners are yellow zinc plated steel. The tongue coupler is zinc plated steel.

The standard tongue typically allows proper clearance for a single 17 ft. boat or two 16 ft. boats. The optional tongue extension kit makes the standard tongue longer and will allow you to carry up to a single 22 ft. boat or two 21 ft. boats, depending on the vehicle hitch and boat positions.

RACKandRoll 66: $2,149.00 -in box.
RACKandRoll 66: $2,399.00 -assembled.
Weight: 150 lbs. unloaded
Dimensions: 66" wide X 132" long X 22" tall
Capacity: 250 lbs.
RACKandRoll 78: $2,399.00 -in box.
RACKandRoll 78: $2,649.00 -assembled.
Weight: 160 lbs. unloaded
Dimensions: 78" wide X 132" long X 22" tall
Capacity: 250 lbs. (300 lbs. w/ optional HD shocks)




66" wide, assembled. $2399.00 f.o.b. Waterport, NY




---
USED TRAILERS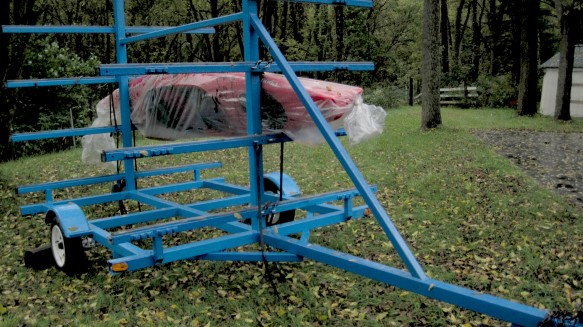 Lights Work.
Fresh Paint!
Used Steel 8-Hauler Canoe Trailer - SOLD
Would cost $6,000.00 new.
Tires appear to be in good shape.
approx. 600 lbs.
Call 1-800-452-9257 for more details.
Tires 2 years old.
2 inch ball required.

---

Used Aluminum Box for Trailex UT-1000


Great storage for paddles and life jackets. Box fits in recessed center cavity of trailer. The lid has a center hinge which permits entry from both sides of the trailer. The box dimensions are 67 1/2" L x 22" W x 11" D.
Cost $900.00 new.



$450.00

as is

---





We can ship almost anywhere!

---

Why not call today?

1 - 8 0 0 - 4 5 2 - 9 2 5 7
or
1 - 5 8 5 - 6 8 2 - 4 8 4 9