Bringing Necky's performance heritage to the recreational class. The Rip is a lively, playful beginner to intermediate kayak designed to help grow paddling skills without sacrificing fun on the water. Efficient length and a sharp keel give the Rip tremendous glide.
| | |
| --- | --- |
| FEATURES: Comfort Flex Seat with custom pads •Custom foam thigh pads •Adjustable foot pedals •Quick-Seal stern hatch with bulkhead for ample, dry storage •Roomy cockpit for easy entry and exit •Cup holder | |
---
NECKY RIP 12
SPECS
Length: 12'
Width: 28"
Weight: 50 lbs

The Rip 12 expands Necky's performance heritage to the recreational class. With many of the same features as its smaller sibling, the Rip 12 has nearly two more feet of waterline allowing you to move faster across the water and a sharp keel giving it even more glide. While most recreational kayaks don't include bulkheads and other details that are overlooked to get to an affordable price, the Rip 12 doesn't skimp. Designed to grow with you, the Rip 12 is a great choice if you're just getting started.
FEATURES:
• Comfort Flex Seat with custom pads • Cup holder • Custom foam thigh pads • Adjustable foot pedals • Quick Seal Stern Hatch with bulkhead for ample, dry storage • Large, roomy cockpit for easy entry and exit
---
NECKY MANITOU SPORT
SPECS
Length: 11'
Width: 26.5"
Weight: 44 lbs

The Manitou Sport is a shorter and slightly wider version of our standard Manitou. Just like its longer sibling, the 'Sport' is truly a scaled down sea kayak and not just an oversized pool toy. The fine entry of the bow and clean exit of the stern provide exceptional glide. The efficiency of the hull, combined with its rock solid stability and surprising tracking, make the Manitou Sport far out perform all of its competitors. A rear bulkhead and hatch (neoprene with hard cover) plus bow floatation are standard making the Sport safe enough to truly bridge the gap between stability and performance. The Manitou Sport features a spacious and comfortable cockpit. It's centerpiece being the XtraComfort seat, renowned as the best kayak seat available.
---
NECKY LOOKSHA 12
SPECS
Length: 12' 1"
Width: 25.5"
Cockpit: 36" x 16.75"
Bow Stern: 13" x 7"
Stern Hatch: 15.5" x 9"
Weight: 50 lbs
Capacity: 250-300 lbs


Paddle the Looksha 12 once and you won't want to paddle anything else. The Looksha 12 is compact yet it features everything you need for a longer paddling adventure. The large roomy cockpit combined with the ACS seating system offer an extremely comfortable ride. The compact size and excellent maneuverability make the Looksha 12 a fun choice for coastal exploration and inland touring.
---
NECKY MANITOU 13
SPECS
Length: 13'
Width: 24.75"
Weight: 45 lbs

The ultimate in versatility, the Manitou is a recreational kayak with a hint of British charm. At 13ft this boat gives the feel and glide of a touring boat with the stability and comfort of a recreational kayak. From its fine bow entry to the nicely finished stern, this kayak is a straight tracking boat with plenty of initial stability and a comfortable seating position. The cockpit size allows for good ease of entry and exit without being so huge that the paddler is lost in the boat. The standard water resistant stern hatch and bulkhead provide enough storage for a day on the water along with buoyancy for safety. The Manitou's compact size and low weight make carrying or car-topping an easy task.
---
NECKY MANITOU 13 RECYCLED
SPECS
Length: 13'
Width: 24.75"
Weight: 45 lbs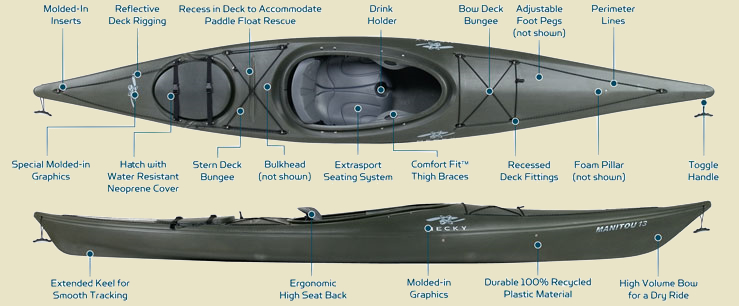 Made with 100% recycled plastic from Necky's own factory, the new Manitou 13 Recycled not only performs well on the water, it is environmentally friendly. Necky Kayaks uses their own cut outs and plastic waste to produce these unique kayaks. Did you know that the 100% recycled hull material actually contains stronger property materials than the standard Manitou line?
Outfitted with adjustable Comfort Fit™ thigh braces, XtraComfort seat, Rear hatch, bulkhead and reflective deck rigging.
The Recycled Manitous help pave the way toward a better environment tomorrow and cleaner waterways today.
Color varies on recycled kayaks. This would be a darker varition, some are lighter than this photo.
---
NECKY MANITOU II
SPECS
Length: 14' 8"
Width: 28"
Weight: 74 lbs

Paddling families spoke, and we listened: introducing the Manitou II, and incredibly versatile tandem designed for beginning and intermediate level paddlers, with the feel and glide of a touring boat, and the stability and comfort of a recreational kayak. While its double cockpit layout allows ample room for a family of three, it's also a blast for solo paddlers. The stern seat easily slides forward for solo paddling. The bow seat may also be adjusted for perfect trim. The Manitou II has a rear hatch compartment with a sealed bulkhead PLUS extra bouyancy in the bow. This is a feature not found on any other recreation tandem kayak. Bouyancy in both bow and stern provides a level of safety unique to this model. This extra bouyancy combined with Necky's dolphin bow and flaired hull makes the Manitou II the smart choice among tandems when you'll be paddling on water that can have waves at times.
---
NECKY LOOKSHA 14
SPECS
Length: 14' 2"
Width: 24.5"
Weight: 54 lbs -no rudder
Weight: 57 lbs -rudder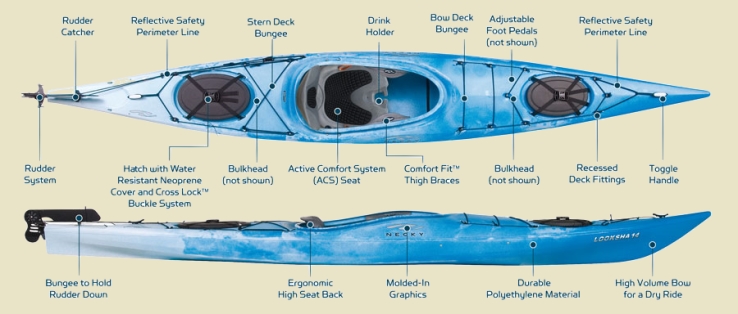 Looking for a compact kayak that can carry a load? Check out the sporty new Looksha 14. Sleek lines combined with a large roomy cockpit make the Looksha 14 perfect for touring and coastal exploring. The Looksha 14 has excellent tracking and glide, while offering great edge control with a smooth transition between primary and secondary stability. This kayak features a comfortable seating system, easy to open Cross Lock hatches with neoprene covers, rudder option and more! The perfect choice for those looking for a kayak that has the gear capacity of an SUV with the look and feel of a sports car.
---
NECKY MANITOU 14
SPECS
Length: 14' 4"
Width: 24"
Weight: 49 lbs

Retains the stability and comfort of its shorter siblings while helping you advance your paddling skills. With a retractable skeg to improve tracking, it delivers performance that will satisfy even hardcore paddling enthusiasts. A great choice for someone wanting excellent stability but also very efficient glide and excellent tracking. You won't outgrow this kayak anytime soon.
The Manitou 14 is also available in a "Select" version and a "Recycled" version for even more value. These include; reflective deck lines, a more durable and stiffer Linear Select hull material, and adjustable thighbraces.
---
NECKY ELIZA
SPECS
Length: 15' 3.5"
Width: 22"
Weight: 49 lbs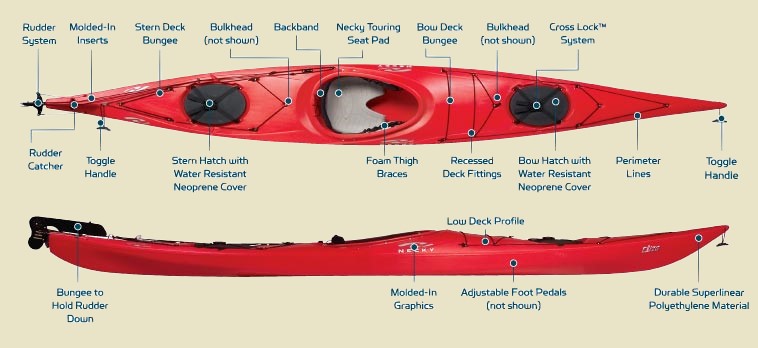 The new women's kayak from Necky feels so good you never want to get out of it. Its compact cockpit makes you feel secure and firmly in control. And its balance of maneuverability and reduced drag will help you keep up with the guys. Or just plain leave them behind. Also available in Avanced Composite Fiberglass.
---
NECKY LOOKSHA 17
SPECS
Length: 17' 4"
Width: 23.75"
Weight: 65 lbs

The Looksha 17 is a sporty, high volume touring kayak designed for covering distance in any conditions. It carries a lot of gear, and its big yet "performance" fit makes it perfect for camping, longer paddling trips, or just a day of sightseeing. Get there quick in a Looksha.
---
NECKY CHATHAM 17
SPECS
Length: 17' 1.5"
Width: 21"
Weight: 63 lbs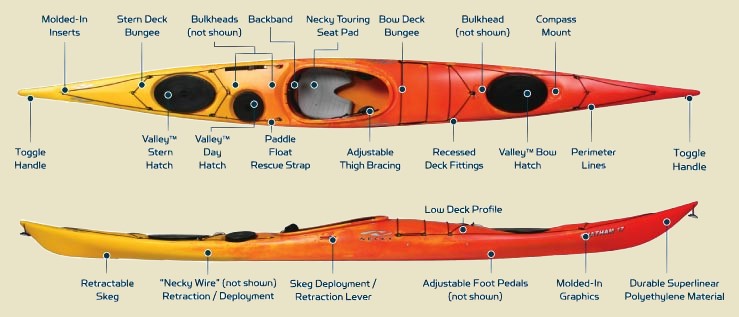 This seventeen footer features a fine bow entry and a sleek stern to offer exceptional glide and efficiency. The rocker is less pronounced than the Chatham 16, resulting in stronger tracking and greater hull speed. The 17 sits comfortably on edge just like its longer and shorter siblings and responds quickly to a deliberate paddle stroke. The adjustable outfitting is relaxed and roomy, offering great comfort while still providing positive fit for agressive edging and rolls. Three VCP hatches (two oval and one round day hatch) are standard on the low profile deck. A retractable skeg operated by our own kink free "Necky Wire" completes the package giving the Chatham 17 bomb-proof tracking in even the most severe conditions.
---
NECKY CHATHAM COMPOSITE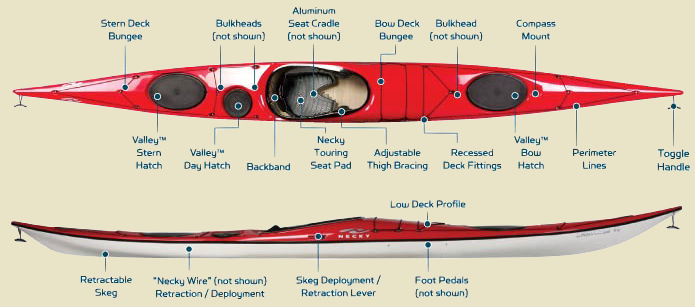 The flowing lines of the Chatham series are inspired by classic Greenland designs. The Chatham is built to minimize windage, have great maneuverability and superb rough water performance. The hull has a very full chine, which provides great stability for a boat of this beam and quick response to edging and lean turns. Volume in the bow is carried well forward ensuring good resurfacing characteristics when riding wind waves or punching surf. A drop skeg, three bulkheads and waterproof VCP hatches complete the package. This boat truly excels at coastal exploration through surf zones, rock gardens and creeks. Composite construction is considerably lighter and much stiffer than the poly model. Layup Options: Advanced Composite (AC) Fiberglass

| | | | |
| --- | --- | --- | --- |
| Model | Length: | Width: | Weight: |
| Chatham 16 Composite | 16' 5" | 22" | 51 lbs |
| Chatham 18 Composite | 17' 9" | 20" | 53 lbs |
---

Whitewater Kayaks


---
NECKY CRUX
SPECS
Length: 7' 7"
Width: 25"
Weight: 43 lbs
The Crux represents our next evolutionary step in creeking. One critical area of concern was the resurfacing characteristics, so a great deal of attention went into sculpting the peaked deck and blending volume out to the ends. Long months of tweaking and careful evaluation resulted in a kayak that handles big hydraulics with poise and resurfaces after big drops like a champ. The Crux has surprising speed for its length and punches holes with authority. Shorter, quicker, and more controlled, the Crux still has enough volume for multi-day trips for the hardcore boater.
---