---
Frontier
---
At the boundary between canoes, kayaks, and small boats, lies the Frontier.
Frontier is full of opportunities, enabling new adventures and delivering unique experiences.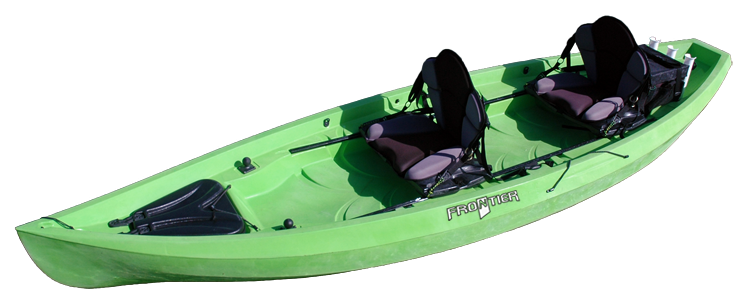 In the Frontier, you can do things your way... a better way! you can choose to go solo in style OR tandem with room to spare. Position the seats anywhere along the 70" Freedom Tracks.
Face the action with 360° Mobility. And don't just sit, you can stand, even walk with confidence on the 20" wide Cast & Blast Deck.
In the Frontier, there are no limits. Put rod holders where you like them - on the Universal Mount Docks, or in the Freedom Track.
Take all the tackle you could possibly need, and secure it in the Gear Vault or strap it in the Crate Space. Extra rods? Just remove the Hatch Sack to tuck them away in the Rod Chamber.
Frontier can be paddled, poled or motored into the all best spots. Places unreachable with too large a craft, or heaven forbid, no craft.

In the Frontier, the journey & the destination are up to you. Fish in the lakes. Float the rivers. Hunt in the marshes. Paddle through the surf. Go for a sunset cruise in the bay. Do more… and enjoy more!
Go beyond the ordinary. Go to the Frontier.
---
Design Features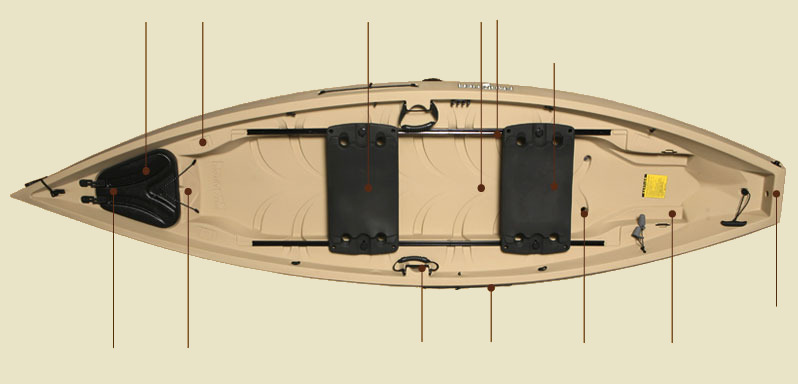 Internal
Rod Chamber
Universal
Mount
Docks
Multi-Seat Bases
[1 or 2]
Cast & Blast Deck
70″ Freedom Tracks [2]
360° Mobility [with Swivel Seat option]
Gear
Vault
Cup
Holders
Paddle
Holder
Scupper
Holes
with plugs
[self bailing]
Tallon
Pad
Crate
or Battery
Space
Motor
Mount
---
FRONTIER SPECS
| | |
| --- | --- |
| Length | 12′ |
| Width | 41″ |
| Deck Width [between tracks] | 20″ |
| Weight | 77 lbs |
| Capacity | 650 lbs |
| Draft | 3-5″ |
| Max Power | 2 HP gas or equiv. Electric |




---
Outfit Your Frontier
This unique watercraft is customizable and adaptable.
We sell the Frontier with either one or two Multi-seat Bases, depending if you like to go solo or with a partner.
Multi-seat Bases are easily removed or customized.
You get to decide what you want and where you want it. And you are free to change it whenever you like.
Upgrade to the "Elite" or "Swivel" seat(s).

Elite Seat
A compression molded kayak seat that has no equal in terms of support, comfort, and durability. Features a massive seat bottom and a tall, spinehugging backrest. The Elite seat bottom fits perfectly onto the Frontier Multi-Seat Base.

Swivel Seat
For maximum Fishability, the Swivel Seats enable 360° mobility while providing great comfort for long days on the water. Swivel Seats attach to the Multi-Seat Base using the Quick Release Bracket and the Seat Swivel with hardware.
---