- Family owned for over 40 years -




Oak Orchard Canoe Kayak Experts




- Open year round -




www.oakorchardcanoe.com


Phone Order line (10am-6pm EST) ..................(800)452-9257
"Waterport" (between Rochester and Niagara Falls) ........... (585)682-4849
"Rochester" (on beautiful Irondequoit Bay) .............................. (585)288-5550
email us: oakorchardcanoe@rochester.rr.com
"Welcome to the BIGGEST - LITTLE canoe and kayak shop in the world"

These are just a few of the many Wave Sport kayaks available from us.
---
ETHOS 9 and ETHOS 10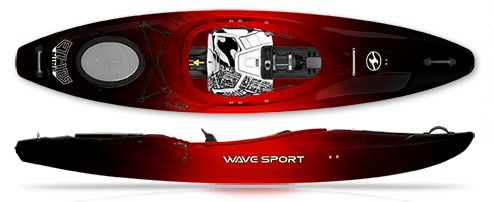 Both seasoned paddlers and beginners who seek to explore varying environments with one comfortable boat will enjoy the Ethos' confidence-building features in up to class III rapids.
It is performance-minded, easy to roll, and features a large, comfortable cockpit with ample storage space - perfect on long days or multi-day river treks.
Key performance features in the Ethos include a full whitewater foot brace system, a whitewater-focused rocker profile and a progressive chine that helps beginners learn the feeling of edging' in a stable, reliable design.
These features combined with the river running style peaked bow allow the Ethos to punch rapids, resurface quickly, and move swiftly downriver.
It is maneuverable in rapids, yet tracks well on flat water with the help of a dropdown skeg system.
Soft grip handles provide an ergonomic fit for comfortable carrying (even in cold weather) without underlying scoop-outs to hinder water shedding.
These handles sit high on the deck for greater accessibility in a rescue situation.
Another key feature includes a drain plug positioned near the cockpit for quick, easy draining - even while carrying.
Grip zones behind the cockpit make pushing out of the boat easy, while the very distinctive, high buff polish with a matte texture finish maintains a stylish look.
Features:
2 Soft Grip Security Grab Handles; 1 Security Grab Handle; Auto-Adjusting Bulkhead Footbrace with Foam Padding;
Tru Trak Skeg System; Hinged Comfort Carry Hip Pads; Adjustable, Padded Trekking Thigh Brace; Quick Fore/Aft Seat Adjustment;
Rotomolded Play Seat with Adjustable Ratcheting Leg Lifter; CORE WhiteOut Outfitting System; Forward Ratcheting Backband

| | | | | | | |
| --- | --- | --- | --- | --- | --- | --- |
| Model | Length | Width | Cockpit Size | Volume | Weight | Paddler Weight Range |
| Ethos 9 | 9' 7" | 25.75" | 36" x 20.5" | 80 gal | 52 lbs | 90-200 lbs |
| Ethos 10 | 10' 3' | 27" | 36" x 20.5" | 100 gal | 54 lbs | 150-260 lbs |
---
DIESEL 80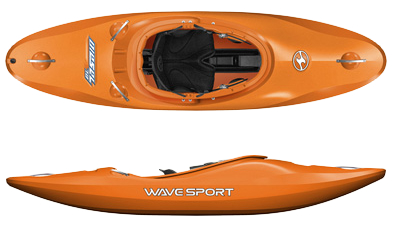 They've called it the 4x4 of kayaks. The SUV of river-runners.
Runs rapids like a fast creekboat and also has a hull that will spin on green waves.
Now it's all that and more. Peaked deck for resurfacing - check. A honed combination of planing hull and continuous rocker for the ultimate in agility - check.
New outfitting that will let Sasquatch fit in a kayak – big, hairy, check.
This isn't just an evolution of the original. Welcome to the next gen of river-running.

| | | | | | | |
| --- | --- | --- | --- | --- | --- | --- |
| Model | Length | Width | Cockpit Size | Volume | Weight | Paddler Weight Range |
| Diesel 80 | 8' 6" | 26" | 33.5" x 19" | 80 gal | 46 lbs | 140-250 lbs |
---
back to Kayaks page