- Family owned for over 40 years -




Oak Orchard Canoe Kayak Experts




- Open year round -




www.oakorchardcanoe.com


Phone Order Hotline (10am-6pm EST) ..................(800)452-9257
email us: oakorchardcanoe@rochester.rr.com
"Waterport Store" (between Rochester and Niagara Falls) ........... (585)682-4849
Store Hours: M,W,TH,FR: 10am to 6pm. SAT:10am to 5pm.
"Welcome to the BIGGEST - LITTLE canoe and kayak shop in the world"



Bonafide kayak models are all made of the highest grade materials right here in the USA.
A high quality kayak actually retains its shape rather than warping in the sun like that box store kayak that looks more like a limp noodle after two seasons.
Bonafide kayaks are some of the finest quality kayaks available.
Attention to detail is amazing -please come to our store and see for yourself !
Fishing Kayaks



Length - 12' 7"
Width - 33.75"
Depth - 15.5"
Capacity - 475 lbs.
Hull Weight - 69 lbs.
Rigged Weight - 94 lbs.





Length - 10' 7"
Width - 34.5"
Depth - 15.5"
Capacity - 425 lbs.
Hull Weight - 59 lbs.
Rigged Weight - 84 lbs.
These kayaks are ideal for the professional angler or a beginner looking to improve their kayak fishing techniques and upgrade to a craft that will be very difficult to outgrow.
The cockpit area is ideal for a variety of paddlers since there is sufficient leg room while allowing very secure casting platform and control.
A top quality seat allows the angler to adjust height quickly, should conditions demand it.
A thoughtful hull design provides excellent secondary stability while leaning and outstanding maneuverability in adverse conditions.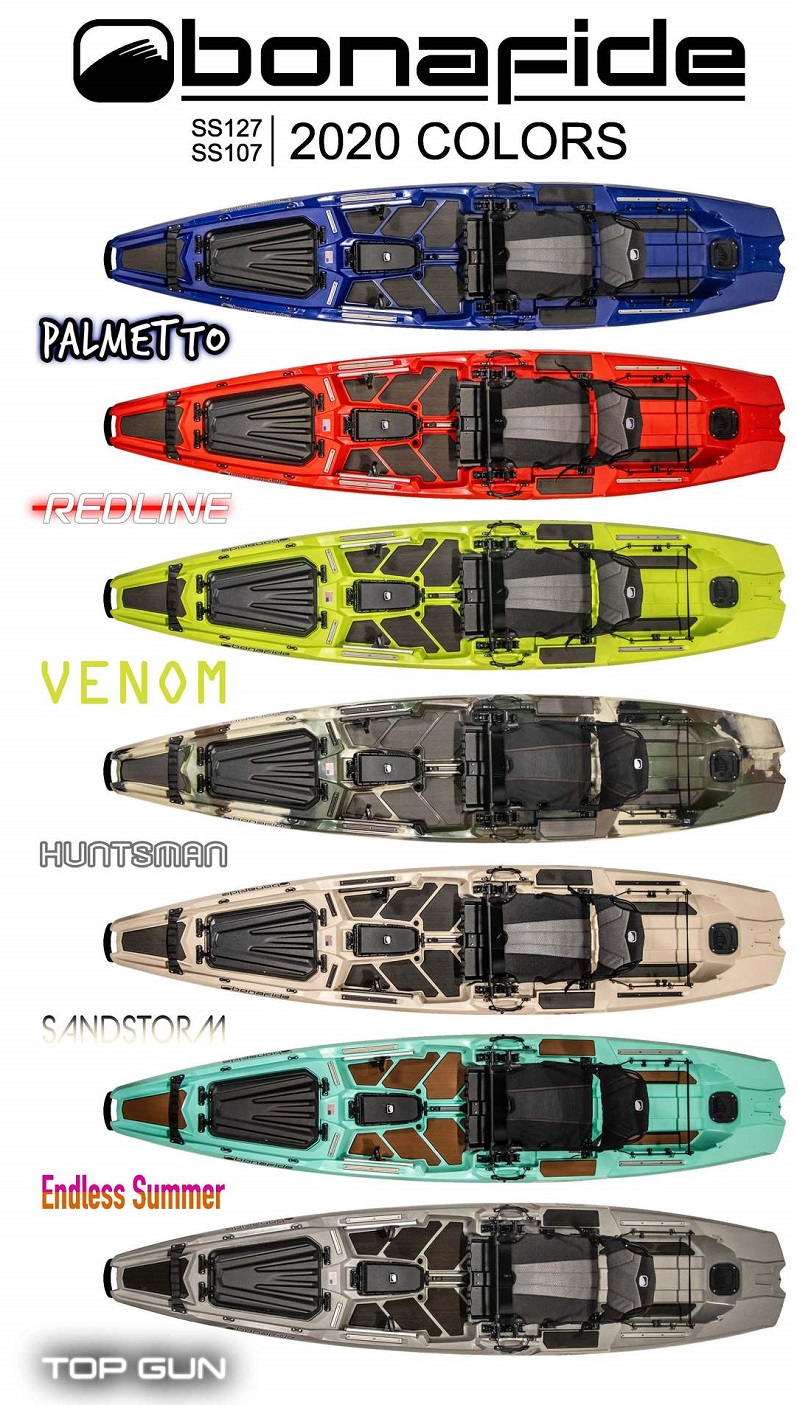 Back to kayaks page