- Family owned for over 40 years -




Oak Orchard Canoe Kayak Experts




- Open year round -




www.oakorchardcanoe.com


Phone Order line (10am-6pm EST) ..................(800)452-9257
"Waterport" (between Rochester and Niagara Falls) ........... (585)682-4849
"Rochester" (on beautiful Irondequoit Bay) .............................. (585)288-5550
email us: oakorchardcanoe@rochester.rr.com
"Welcome to the BIGGEST - LITTLE canoe and kayak shop in the world"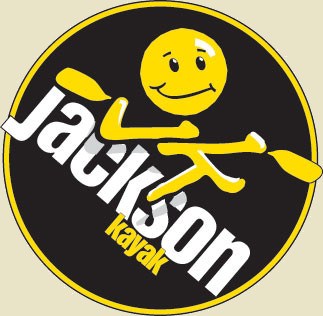 Jackson Kayak
Note: Jackson Kayaks has very Limited availability for 2021.
---
BlueSky Boatworks 360 Angler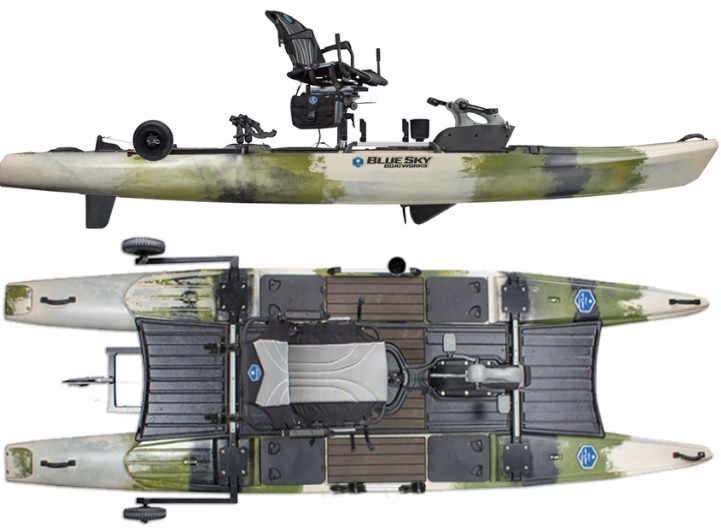 Designed by BlueSky Boatworks and built by Jackson Kayak in Tennessee.
Now you're ready to fish big water - lakes, rivers and oceans, OR fish the small water; like ponds and creeks.
Speed for covering distance with an awesome FlexDrive™ pedal drive or by paddle and TONS of stability for standing.
The 360 Angler and 360 Escape will slide right into your pick-up truck or trailer.
Integrated fold-up wheels let you roll right across the parking lot full of gear to the launch site.
Angler-designed deck for logical tackle and rod storage.
Of course we wish the best fishing was close by our launches, but it's often not the case.
That's why designed the 360 Escape and 360 Angler for a full day out on the water.
The hull and the for and aft decks are designed for both stability and moving around on.
This, with the addition of storage areas, gear tracks and more allow you to customize for your style of adventure.
Our mounts are compatible with RAM Mounts giving you access to seemingly unlimited accessorizing:
Add a camera mount, smart phone, tablet, fishing rod holder, cup or your favourite Bluetooth music player.
All this personalization surrounding the comfortable adjustable chair...
it's the Angler's dream.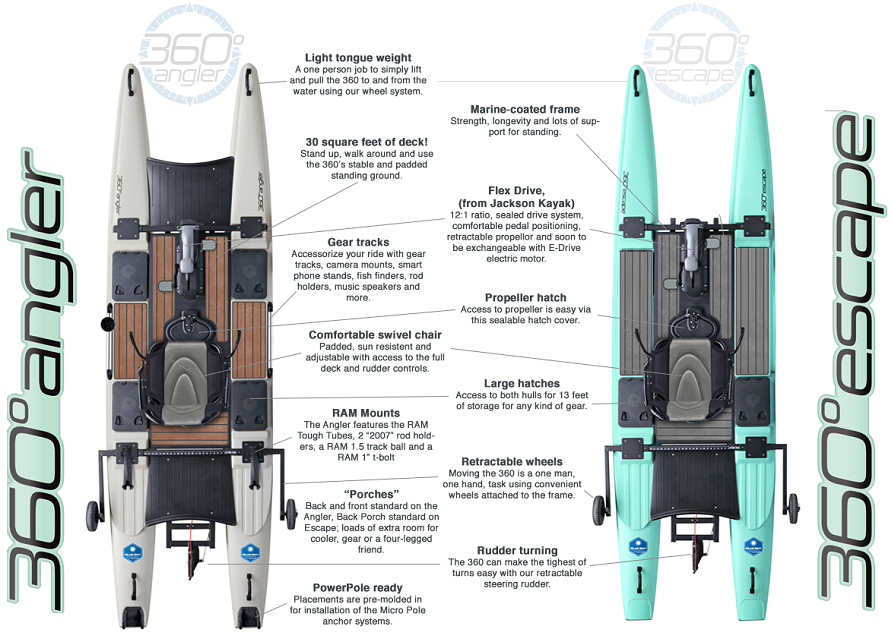 Model: 360 Angler | Length: 13' 4" | Width: 48" | Weight: 130 lbs | Seat Type: BSB Vantage Seat | Capacity: 500 lbs
Model: 360 Escape | Length: 13' 4" | Width: 48" | Weight: 130 lbs | Seat Type: BSB Vantage Seat | Capacity: 500 lbs
---
Cruise 10



Jackson makes the Cruise in 10ft and 12ft sizes. They're a good stable craft so we frequently add tracks, cupholders, camera or Go-pro mounts to them for our customers.
Traction pads and rod holders may also be added for paddlers who also like to fish.
Cruise has the smaller size of a versatile, general purpose recreational kayak. Jackson Kayak's signature feature is the Elite Hi-Lo Seating concept.
This is really comfortable and makes it very easy to get on and off the kayak at any shoreline, regardless if you have a dock. Come on in, and we'll show you how it works.
Cruise is a great sit-on-top you'll love to paddle.
Angler Ready... our standard Cruise 10 and Cruise 12 come with 5 molded-in threaded inserts where you can quickly add cupholders, Go-Pro mounts, RAM mounts, Rod holders, etc,
No-skid floor pads are easily added. 8 inch gear tracks are easily added for more accessories.
Our Cruise Angler has flush mount Rod holders in place of two of these inserts and a RAM Rod holder for another.

Length: 10' 3" | Width: 32.5" | Height: 12.5" | Weight: 53 lbs | Seat Type: Elite Hi-Lo Seating | Capacity: 300 lbs
---
Kraken

| | |
| --- | --- |
| This kayak is designed for some of the most challenging paddling environments in the world and intended for the offshore and big lake kayak angler.This kayak marks the first collaborative design between legendary kayak angler, Jim Sammons and Jackson Kayak's design team led by Tony Lee. The end result is a boat shaped and built to accommodate those hitting the open water, those looking for speed, comfort, perfect trim and big water management. It's a paddlers fishing kayak! It's designed for punching through surf, handling rough offshore currents, swells, beach landings and those who desire ultimate performance when paddling long distances to get on big fish. | |

Features:
Seat Type: Elite Hi-Lo Seating | Day Hatch: Hinged Center Hatch w/ Tub | Front Hatch: 13" x 17" x 24" (Trapezoid) | Rear Hatch Dimensions: 9.375" diameter | Rudder: (optional) |

KRAKEN 13.5 Length: 13' 3" | Width: 30.5" | Height: 14.5" | Weight: 72 lbs. | Capacity: 350 lbs. |


---
Coosa
Colors for all Jackson Fishing Kayaks
| | |
| --- | --- |
| Coosa is Jackson's best moving water fishing kayak. Small enough to get into tight places, but stable enough for standing. Ideal for rivers, creeks, small lakes and ponds. Lockable hatches for loads of gear. Designed to answer to the continually evolving needs of the kayak fisherman. The Coosa is made to cater to the river angler and is set up with rod staging areas, easily reachable gear storage zones and molded-in accessory mounts. The patent-pending Hi-Lo Elite seating | |


Length: 11' 2" | Width: 32" | Height: 17" | Weight: 64 lbs | Seat Type: Elite Hi-Lo Seating | Capacity: 375 lbs
---
Coosa HD

| | |
| --- | --- |
| Jackson Kayak's top design team once again teamed up with pro kayak angler Drew Gregory to put an "HD" twist to the already popular Coosa model. This heavy duty fishing craft boasts amped up specs/features and is slightly longer and wider than the original Coosa; this makes it even more stable and a perfect fit for anglers of all sizes or those who are really looking for a stand up fishing kayak. The hull is still river friendly, but the HD will track truer on the flat waters of lakes or inshore saltwater. Packed with features the Coosa HD is ready for any type of fish on almost any type of water! | |


Length: 12' 6" | Width: 34" | Height 16" | Weight: 78 lbs | Seat Type: Elite Hi-Lo Seating | Capacity: 425 lbs
---
MayFly



The MayFly is a fly fishing oriented sit-on-top, loaded with features to make kayak fly fishing more fun and user friendly.
The MayFly has a versatile hull optimized for tracking, stability, and speed in popular fly fishing conditions and destinations,
including tropical flats, slow-moving rivers, lakes and ponds.
Recognizing the unique challenges faced by fly fisherman, particularly fly line management,
the MayFly includes a myriad of design aspects to address the needs of fly fisherman creating the ultimate kayak fly fishing platform.
Snag-free footrests and features, protected fly box storage, unique fly rod storage options, rod butt props for dealing with tangles,
integrated and protected fly patches, and more cater to the high-performance features expert fly fisherman need
while being versitile and stable enough to bring new kayak fly anglers into the sport.

Length: 12' 8" | Width: 35" | Height 12.5" | Weight: 83 lbs | Seat Type: Elite Hi-Lo Seating | Capacity: 450 lbs
---
Big Rig



The Big Rig is a fishing kayak that's designed for incredible stability while you stand-up OR sit down.
Taking the best features of various Jackson Kayak fishing models into a new, larger package, while introducing some new ones at the same time to create the ultimate all-water, all fishing style, fishing machine. The Big Rig comes ready to accept the Raymarine Dragonfly fishfinder and Power-Pole Micro stake out systems.
If you are thinking about a fishing kayak you could stand up on we invite you to our store to try a few out since it can be very enlightening. Many kayaks these days are claimed to be good for standing but we find that often does not hold true. While we see a few people every year that seem to have just returned from the Olympics -and are therefor able to stand on anything and look awesome. We've found that for most of our customers it's a big deal which of these models they try to stand upon.
The Jackson Big Rig should be on your list of stand-up-able fishing kayaks; it's very sturdy. Our Big Rig package includes hatches, rod holders, rod tip protectors, traction floor pads, pull-up strap, adjustable Hi and Low seat levels AND a retractable stand-up Bar other brands add $200-300 for that! Notice all the threaded inserts and gear tracks molded into the deck -so you can add rod holders and other accessories anywhere you could want. There's a great spot for a cooler or a krate right behind the seat, plus under seat storage and lockable bow and stern hatches.

Length: 13' 2" | Width: 37" | Height: 16" | Weight: 92 lbs | Seat Type: Elite Hi-Lo Seating | Capacity: 500 lbs
---
Big Tuna



The Big Tuna is our largest capacity fishing kayak with the ability to paddle either as a tandem or a solo. It has many different seating positions like "facetime" positions. Its JK stability, logical accessory positioning, rudder option, and speed make it a serious predator in all water types.

The Big Tuna is a creature unlike any other on the market, with multiple never before seen features in the kayak fishing world. Leading the charge on these unique elements has to be the "Tuna Tank," a unique bait/live well that requires no plumbing or electronics! It utilizes the water from beneath the boat to circulate into the bait tank keeping fish lively and fresh unlike any other system on the market. The tank also resides in the center of the boat for easy access and management. The possibilities with the Tuna Tank are endless - bring the kids on a trip and have them catch cool creatures and learn about them while in the tank; keep your catch alive to show it off to your friends later before you release it; keep your live bait alive and fresh; insert the cooler option to put your fish on ice or just use it as a cooler for your drinks; insert the solid piece and use it as dry storage!

Length: 14' 2" | Width: 35.5" | Height: 17" | Weight: 87 lbs | Seat Type: Elite Hi-Lo Seating | Capacity: 500 lbs

Note: Jackson Kayaks has very Limited availability for 2021.

---
Tupelo 12 & Tupelo 12.5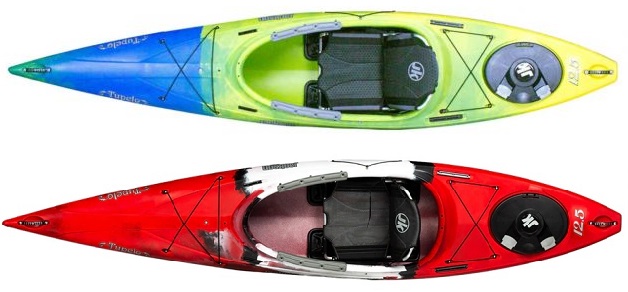 Tupelo is designed for cruising the waterways with comfort and efficiency.
With loads of storage and convenient accessories always within reach; Tupelo is your premier, feature laden kayak.
Tupelo comes in two sizes for ALL paddlers...
The 12.5 size is higher volume craft with a bit more length width and depth.
The seat in the 12.5 is elevated above the floor in order to providebetter a ergonomics while paddling.
The smaller, lighter, narrower 12.0 has a lower seat and also a lower deck. The 12.0 is very light and efficient.
We'll bet that if you only sit in one size you'll love it, but we'll encourage you to sit in both sizes, just to be sure which one fits You best. This sizing allows a couple who are not matched in size or strength to paddle at a similar pace, without one feeling they must work harder than the other. Our customers say Tupelo blurrs the line between Touring and Recreation since they are more stable and more comfortable than most kayaks while also being more efficient than most kayaks. All while being very easy to keep going strait AND easy to turn!
Both sizes feature Jackson's removable and super comfy Elite Seat.
YakAttack tracks around the deck allow for you to accessorize with many RAM or Scotty accessories like fishing rod holders, GPS, camera mounts, smart phones, cup holders and more.
It's ideal for long trips or just relaxing out on the water. Versatility, comfort, ease of use.... Tupelo has it all!

Features:
Classic tri-hull design | Elite Seat | Rear Hatch Dimensions: 16 1/4" long X 11 3/8" wide (oval) | Deck Rigging: Bow & Stern

Tupelo 12.0: Length: 12' | Width: 27" | Height: 14" | Weight: 42 lbs.

Tupelo 12.5: Length: 12' 6" | Width: 29" | Height: 16" | Weight: 49 lbs.
---
KilRoy



• Sit-in-kayak that keeps you high and dry.
• Intuitive layout of protected gear positions, rear hatch with a sealed bulkhead.
• Hard deck (standard) and soft deck (optional) for more protected gear storage.
• Leave off the Hard deck and soft deck for an open concept layout.
• Jackson's ELITE Hi-Lo Seat makes this one sit-inside kayak that's EASY to get on or off.
• The Best features of a sit-on-top style kayak combined with the Best features of a sit-inside style kayak!

The Kilroy is quickly becoming the talk of the fishing/hunting world as one of the most decked out kayaks on the market, especially for those who don't relish getting wet.
With logically placed gear mounts and staging systems all in a protected hull, this is a great kayak for those who want the typical JK set up innovation in a sit-inside.
The Hard Deck or the Soft Deck shown on our KilRoy can be removed, so the cockpit appears much larger (as in our Tripper photo).
Either Deck may be attached forward or rear. (Soft Deck is optional extra on the KilRoy)
NOTE: the original KilRoy is no longer made BUT we can help you outfit a new Tripper like a KilRoy.
KilRoy: Length: 12' 4" | Width: 31" | Height: 13" | Weight: 65 lbs | Seat Type: Elite Hi-Lo Seating | Capacity: 375 lbs

KilRoy HD: Length: 12' 10" | Width: 36" | Height: 16" | Weight: 93 lbs | Seat Type: Hi-Lo Ergo Seating | Capacity: 450 lbs
---
Tripper 12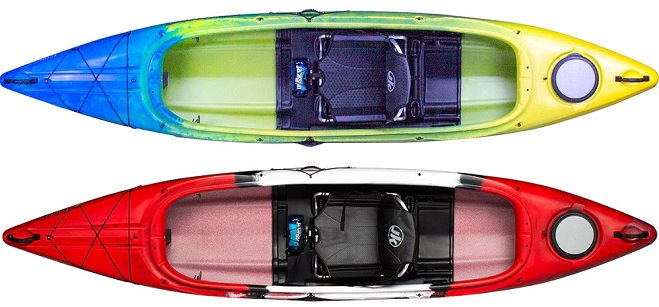 • Sit-in-kayak that keeps you high and dry.
• Intuitive layout of gear positions, rear hatch with a sealed bulkhead.
• Hard deck (optional) and Soft deck (optional) for more protected gear storage.
• Leave off the Hard deck and Soft deck options for an open concept layout.
• Jackson's ELITE Hi-Lo Seat makes this one sit-inside kayak that's EASY to get on or off.
• The Best features of a sit-on-top style kayak combined with the Best features of a sit-inside style kayak!

Based on the incredibly stable, fast and versatile Kilroy hull, this sit-inside recreational kayak design for exploration fun and family adventure.
The Tripper 12 comes with loads of storage space, our comfortable patented ELITE Hi-Lo seat and unending ways to set it up for your on-water use.
Stuff it for a long adventure, load it up for fishing or simply take it out for a leisurely paddle, the Tripper will get you there.
(The Hard or Soft Decks you see on our KilRoy photo are optional extra on the Tripper)

Length: 12' 4" | Width: 30.5" | Height: 12.5" | Weight: 62 lbs | Seat Type: Elite Hi-Lo Seating | Capacity: 375 lbs
---