---
NuCanoe Models...
Flint 11ft
Frontier 12ft
Frontier 10ft
---
Flint
Igniting the passion of the beginning kayak angler,
Refueling the fire of experienced anglers looking to get back to the basics,
Lighting up lakes and burning down creeks and rivers.
Super Versatile, Easy to Car top, or slide into your pickup truck.
Flint; the ultimate tool for Anglers!!
The Flints' platform-style design is packed with integrated features that are there when you need them and out of your way when you don't.
The Fusion Seating System sets a new standard for fishing kayaks; its simplicity and comfort are unmatched.
The Flint is not only an entirely new NuCanoe. It's an entirely new Fishing Kayak.
Go beyond the ordinary. Get in the Flint.
Flint Design Features

·Custom Height Fusion Seat
·Horizontal Rod Holders (2)
·Flush Mount Rod Tubes (4)
·Tackle Box Pockets (2)
·Hawg Trough Channel
·5 x 8″ Accessory Freedom Tracks
·Combo Side Handle & Paddle Holder
·Transducer Recess

·Square Transom
·Integrated Foot Pegs
·Rigid Bow Handle
·Stern Crate Space
·Large Bow Storage Space
·Rear Storage Hatch
·Junior Seat compatible (optional)
·Pedal Power compatible (optional)
·Motor compatible (optional for bow or stern)
·Transport Cart compatible (optional)
Flint Specs
Length
11′ 3″
Width
33″
Weight
62 lbs
Capacity
375 lbs
Draft
3-6″
Max Power
2.5 HP gas or equiv. Electric
---
Frontier 12
At the boundary between canoes, kayaks, and small boats, lies the Frontier.
Frontier is full of opportunities, enabling new adventures and delivering unique experiences.
Shown above; our Frontier 12 with one Fusion seat with 360 swivel on a removable seat base that can also adjust for and aft.

In the Frontier, you can do things your way... a better way! You can choose to go solo in style OR tandem with room to spare.
You can position one or two seats anywhere along the 70" Freedom Tracks.
Face the action with 360° Mobility.
Don't just sit, you can stand, even walk with confidence on the 20" wide Cast & Blast Deck.
In the Frontier, there are no limits.
Put rod holders where you like them - on the Universal Mount Docks, or in the Freedom Track.
Take all the tackle you could possibly need, and secure it in the Gear Vault or strap it in the Crate Space.
Extra rods? Just remove the Hatch Sack to tuck them away in the Rod Chamber.
Frontier can be paddled, poled or motored into the all best spots.
Places unreachable with too large a craft, or heaven forbid, no craft.

In the Frontier, the journey & the destination are up to you.
Fish in the lakes. Float the rivers. Hunt in the marshes. Paddle through the surf. Go for a sunset cruise in the bay. Do more… and enjoy more!
Go beyond the ordinary. Go to the Frontier.
Frontier 12 Design Features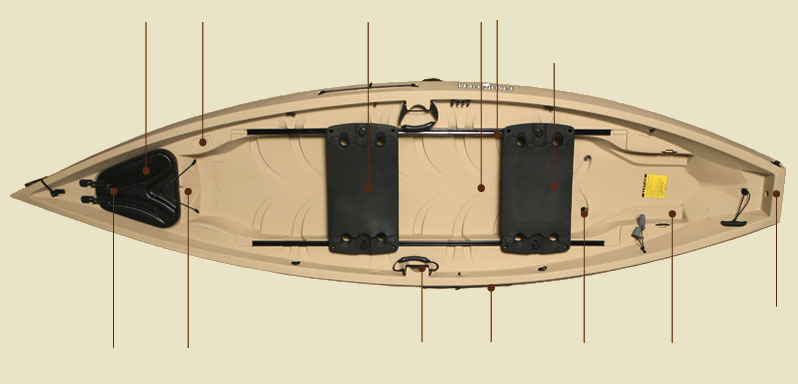 Internal
Rod Chamber
Universal
Mount
Docks
Multi-Seat Bases
[1 or 2]
Cast & Blast Deck
70″ Freedom Tracks [2]
360° Mobility [with Swivel Seat option]
Gear
Vault
Cup
Holders
Paddle
Holder
Scupper
Holes
with plugs
[self bailing]
Tallon
Pad
Crate
or Battery
Space
Motor
Mount
Frontier 12 Specs
| | |
| --- | --- |
| Length | 12′ |
| Width | 41″ |
| Deck Width [between tracks] | 20″ |
| Weight | 78 lbs |
| Max Capacity | 650 lbs |
| Draft | 3-5″ |
| Max Power | 2.5 HP gas or equiv. Electric |




---
Frontier 10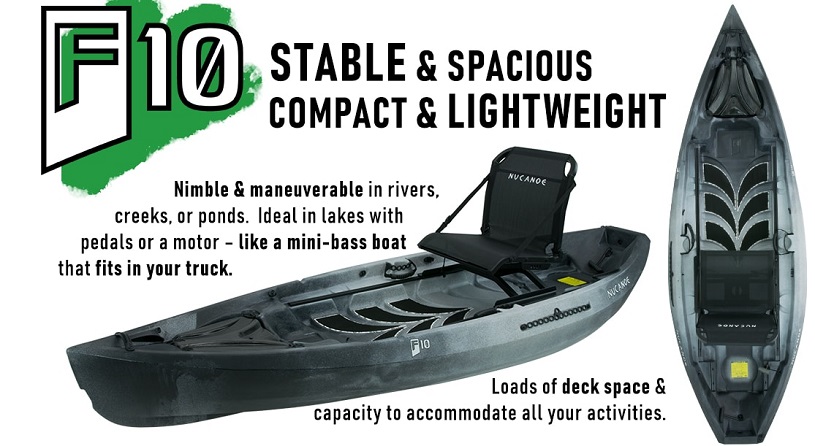 The Frontier 10 is here....and it is all that we hoped it would be.
Super stable, incredibly maneuverable, completely customizable, and easy to handle off the water.
We are sure you'll be impressed too! Read on to learn the details, watch the Frontier 10 in action, and learn about all the new features.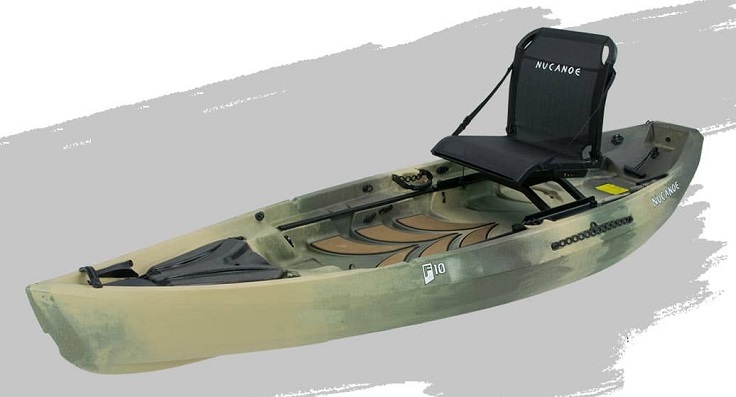 Frontier 10 Specs

Length = 10ft
Width = 39"
Weight = 62 lbs
Max Capacity = 500 lbs
Self-Bailing Capacity = 350lbs
Max Power = 2.5 HP gas or equiv. Electric

All in all, our new Frontier 10 is just as expected... Super stable and easy to car top or slide into a pickup truck.
We are just not willing to compromise stability, hull strength and integrity that folks love about the 12ft Frontier. Our Frontier 10 lives up to the expectations.
When handling the Frontier 10 off the water, it feels light and easy to carry/transport/load.

Speaking of strength, the Cast & Blast Deck is rock solid, and the contour of the hull is such that water will not pool near the bow or on the sides.
The redesigned channels near the scuppers means the F10 bails fast and no water stays behind.

On The Water

| | | |
| --- | --- | --- |
| Stability - Well, it is a Frontier, so you'd expect it to be stable. And it is super stable and very comfortable for standing. | Tracking - I think the biggest surprise for most people who paddle the Frontier 10 will be how well it tracks. It is not quite up to the "straight as an arrow" tracking of the Frontier 12, but once you get a couple paddle strokes in, the F10 holds a straight course. And maintains a straight glide when the paddling stops. | Paddling - Again, this is going to surprise people. The Frontier 10 moves real nice through the water ...nothing like you would guess form the 39" beam. Maneuverability - The Frontier 10 can literally be turned 360 on its own axis. Easily whip the boat 180 degrees with just 2-3 paddle strokes. Nimble as can be for those tight waters and small creeks. |
---
Outfit Your Frontier
This unique watercraft is customizable and adaptable.
We sell the Frontier with either one or two Seat Bases, depending if you like to go solo or with a partner.
Seat Bases are easily removed or customized.
Choose either the 360 Fusion Seat OR the Multi-Base Seat.
You get to decide what you want and where you want it. And you can change it whenever you like.
We have several in-stock Frontier seat options to show you!

Multi-Base Seat
Use the Multi-Base Seat like an economical bench seat. You can also flip it over and mount a swivel and a Camo 360 seat. The SitBacker seat can also be added to the Multi-Base seat.

All Seat bases are adjustable along the Frontier's Freedom Tracks.

Camo 360 Seat
Turn your fishing world around and around in
maximum comfort with the Camo 360 Seat.
Features an extra wide seat bottom, thick cushioning
and a 15" tall back rest. Color: Camo.
We recommend you add a Quick Release Bracket
and Stainless Steel Swivel Seat Mounting Kit
along with the Camo 360 Seat.

The Camo 360 fits on either the Rigid Seat Base
OR the Multi-Base Seat.

Fusion 360 Seat
Turn your fishing world around and around in
maximum comfort with the Fusion 360 Seat.
Features an extra wide seat bottom with adjustable cushioning
and a 15" tall back rest with adjustable lumbar cushioning.

The Fusion 360 fits on the Frontier's Freedom Tracks (shown) so it can adjust for and aft.
A 360 setup is optional for the Flint but standard issue for the Frontier 10 or Frontier 12.
Duck Hunters: We have the New Camo Fusion Seat covers and Layout Blinds in stock.
---