- Family owned for over 40 years -




Oak Orchard Canoe Kayak Experts




- Open year round -




www.oakorchardcanoe.com


Phone Order Hotline (10am-6pm EST) ..................(800)452-9257
email us: oakorchardcanoe@rochester.rr.com
"Waterport Store" (between Rochester and Niagara Falls)
Store Hours: M,W,TH,FR: 10am to 6pm. SAT:10am to 5pm.
2133 Eagle Harbor Waterport Rd
Waterport, NY 14571
(for gps use Albion, NY 14411)
ph; 585-682-4849
"Welcome to the BIGGEST - LITTLE canoe and kayak shop in the world"
Excuse our dust, this AquaGlide web page is "under construction"



The Safari is a new concept in inflatable design. Self-bailing, definite rocker, slight keel, compact size and low profile combine to provide a sophisticated and technical paddling experience on whitewater, ocean surf, placid rivers and lakes. When firmly inflated the Safari side tubes and self-bailing floor create a rigid, integrated hull that delivers surfing and turn carving performance comparable to hard-shell kayaks. Thighstraps, which are standard equipment, provide precise control and allow Eskimo rolling as well. Weighing a scant 24 lbs., Safari packs small in its own drybag/backpack for compact travel and storage. For touring it comes with removable tracking fin. Made of Nitrylon™.

Nitrylon™ is a lamination of nitrile synthetic rubber and natural rubber over a 1,200-denier, low stretch polyester fabric. Nitrylon™ is very puncture and abrasion resistant. It is considerably stronger, easier to patch, performs better in cold weather, and is much more abrasion resistant than PVC. It also does not have the environmental problems associated with the manufacture and ultimate disposal of PVC products.
OPTIONS:
303 UV Protector; add $9.95
HandPump; add $69.95



Available in color red only. $49.00 shipping & handling (to 48 States)
NYS residents add 8% sales tax

S A F A R I
Specifications
RIVER RATING:
Class III
LENGTH:
10 ft.
WIDTH:
28 in.
WEIGHT:
24 lbs.
AIR CHAMBERS:
3 Main
CAPACITY:
220 lbs
(1 person)
PACKED DIM:
10x17x20 in.
MATERIAL:
1200-denier
Nitrylon™
COLOR:
Red

---

Innova "Swing"
The Swing Difference
Innova Swing kayaks are fast, green, and light. Decked inflatable boats with handsome lines that cut through the water perfectly. Swing kayaks inflate in about 5 minutes and easily dry off and pack away.

Hull
The Swing uses an efficient "tubeless" system. The hulls are made of rip-stop polyester fabric, rubber-coated on the interior for air-retention, and Teflon®-treated on the outside for water repellency and stain resistance.
The air-holding seams are vulcanized and permanently bonded (similar to the way in which tires are vulcanized). Each chamber is individually tested at the factory for air retention.
The Swing "tubeless" construction parallels what tire manufacturers went to decades ago - it is inherently light, but it also inflates to a higher pressure than competing bladder kayaks (3-psi vs 2-psi). The higher pressure means that the Swings are stiffer in rough water and have snappier paddling performance.
Other decked inflatable kayaks are built using an unreinforced vinyl bladder inside a zip-on skin. This technique results in a heavier boat... and the potential for water to get trapped making it difficult to dry and pack away.

Decks
Swing decks are urethane-coated with zippered access for gear storage and cleaning ease. The decks shed water quickly and easily.
The deck support system uses aluminum arches fore and aft of the cockpit openings. These arches are set crosswise and provide a deck shape and structure. The arches contribute to the stiffness of the Swing for paddling in rough water. These arches can be removed easily for a compact folded package, or left in the kayak for a slightly larger folded size.
The decks have fore-and-aft zippers for ease of gear access and cleaning the boat. The aft zippered deck opens completely in two flaps for full access. Each deck is provided with gear bungees

Extras
The Swing has carrying handles on each ends. An optional spray skirt is available for the Swing cockpits.

Green
Polyvinyl Chloride (PVC) is increasingly being recognized as a material of significant environmental concern. The Swing is free of PVC.

Each kayak is divided into three separate air chambers for safety. The valves are sophisticated "bayonet" style units set flush with the fabric surface. A pressure relief valve is installed in the kayak floor chamber to relieve possible overpressure. Setup time with a manual pump is about 5 minutes.

RIVER RATING: Class II
LENGTH: 10 ft. 6 in.
WIDTH: 33 in.
WEIGHT: 22 lbs.
AIR CHAMBERS: 3
CAPACITY: 265 lbs (1 person)
PACKED DIM: 27x15x9 in.
MATERIAL: LitePack™ hull treated with Teflon® water repellent - No PVC!
INCLUDES: Tracking fin, repair kit
RECOMMENDED ACCESSORIES: paddle, PFD, spray skirt
OPTIONS:
303 UV Protector; add $9.95
Carry Bag; add $49.95
HandPump; add $69.95



Available in red/black color only. $50.00 shipping & handling (to 48 States)
NYS residents add 8% sales tax
---
Innova "Swing II" Tandem Kayak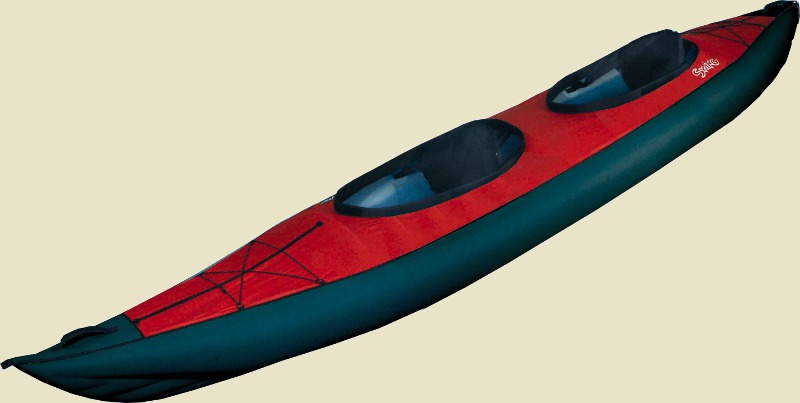 The Swing Difference
Innova Swing kayaks are fast, green, and light. Decked inflatable boats with handsome lines that cut through the water perfectly. Swing kayaks inflate in about 5 minutes and easily dry off and pack away.

Hull
The Swing uses an efficient "tubeless" system. The hulls are made of rip-stop polyester fabric, rubber-coated on the interior for air-retention, and Teflon®-treated on the outside for water repellency and stain resistance.
The air-holding seams are vulcanized and permanently bonded (similar to the way in which tires are vulcanized). Each chamber is individually tested at the factory for air retention.
The Swing "tubeless" construction parallels what tire manufacturers went to decades ago - it is inherently light, but it also inflates to a higher pressure than competing bladder kayaks (3-psi vs 2-psi). The higher pressure means that the Swings are stiffer in rough water and have snappier paddling performance.
Other decked inflatable kayaks are built using an unreinforced vinyl bladder inside a zip-on skin. This technique results in a heavier boat...and the potential for water to get trapped making it difficult to dry and pack away.

Decks
Swing decks are urethane-coated with zippered access for gear storage and cleaning ease. The decks shed water quickly and easily.
The deck support system uses aluminum arches fore and aft of the cockpit openings. These arches are set crosswise and provide a deck shape and structure. The arches contribute to the stiffness of the Swing for paddling in rough water. These arches can be removed easily for a compact folded package, or left in the kayak for a slightly larger folded size.
The decks have fore-and-aft zippers for ease of gear access and cleaning the boat. The aft zippered deck opens completely in two flaps for full access. Each deck is provided with gear bungees

Extras
The Swing has carrying handles on each ends. An optional spray skirt is available for the Swing cockpits.

Green
Polyvinyl Chloride (PVC) is increasingly being recognized as a material of significant environmental concern. The Swing is free of PVC.

Each kayak is divided into three separate air chambers for safety. The valves are sophisticated "bayonet" style units set flush with the fabric surface. A pressure relief valve is installed in the kayak floor chamber to relieve possible overpressure. Setup time with a manual pump is about 5 minutes.

RIVER RATING: Class II
LENGTH: 13 ft. 0 in.
WIDTH: 33 in.
WEIGHT: 26 lbs.
AIR CHAMBERS: 3
CAPACITY: 485 lbs (2 persons)
PACKED DIM: 27x16x10 in.
MATERIAL: LitePack™ hull treated with Teflon® water repellent - No PVC!
INCLUDES: Tracking fin, repair kit
RECOMMENDED ACCESSORIES: paddle, UV Protector, PFD, spray skirt.
OPTIONS:
303 UV Protector; add $9.95
Carry Bag; add $49.95
HandPump; add $69.95



Available in red/black color only. $50.00 shipping & handling (to 48 States)
NYS residents add 8% sales tax
---
Accessories
---



Order Online with your credit card
OR
Log-in and pay thru PayPal

Have More Questions?...
Place Your Order by Phone
with A Real Live Person
1-800-452-9257
10am - 6 pm EDT
Closed Tuesdays