- Family owned for over 40 years -




Oak Orchard Canoe Kayak Experts




- Open year round -




www.oakorchardcanoe.com


Phone Order Hotline (10am-6pm EST) ..................(800)452-9257
email us: oakorchardcanoe@rochester.rr.com
"Waterport Store" (between Rochester and Niagara Falls) ........... (585)682-4849
Store Hours: M,W,TH,FR: 10am to 6pm. SAT:10am to 5pm.
"Welcome to the BIGGEST - LITTLE canoe and kayak shop in the world"
Sportspal, made in USA



We will be happy to help you arrange shipping one of these fine canoes to you.
PLEASE Call us at 1-800-452-9257 to order... or you may order on this page.


NOTICE: Sportspal is out of material to build canoes. We can't take your order for several months.
We have a couple Sportspals in our store but we can't order more right now.
Please check back later this year.

Once we have your order and actual address we will confirm model, color, address and all costs with you via email prior to shipping.
Orders generally ship in about 3 weeks, BUT this can vary depending on your size and color selection, or the time of year.
This web page is NOT our in-store inventory list.
To be sure what we actually have in our store please see our "canoe inventory" web page, or even better, call us...ph (585) 682-4849


Sportspal Canoes...
Sportspal Canoes are manufactured from 0.032" Aircraft Grade Aluminum, which is then stretch-formed, heat treated and hardened. The two piece hull is joined with solid rivets at the external keel and internal keelson, where the canoe is most reinforced. This makes Sportspal canoes very durable. Extraordinary stability and safety make these fine canoes excellent for family recreation, fishing or hunting. Lined with closed cell ethafoam so they won't sink even if fully loaded with water. The special lining makes these canoes very quiet. A duck hunters gun's recoil will not flip the Sportspal, and his dog can climb in and out for retrieving game. Being very light, it is easy to portage. And, of course, since you virtually cannot sink a Sportspal, all that valuable gear that sportsmen carry have less chance of accidental loss. The Sportspal is designed to give year round use, adaptable to many sports activities. A wide flat bottom coupled with the side ethafoam sponsons makes Sportspal canoes the most stable canoes available.
Sportspal canoes are made in the USA, and should not be confused with another canoe manufactured in Canada, whose hull is composed of thinner 0.022" and softer (marine grade) aluminum. This competitor canoe has a seam on each end plus three exposed seams on each side where thin aluminum is then joined with sheet metal screws and caulk. The caulk often needs to be replaced if scraped against a rock, or dries out and cracks.
Key Features...
✔ Sportspal Canoes are manufactured from ultra-light aircraft aluminum.
✔ Hulls are stretch-formed and heat-treated for additional strength and eliminates the need for side seams.
✔ T-keel provides superior tracking and added strength.
✔ Wide beam and flat bottom makes Sportspal one of the safest canoes on the water.
✔ Ribs are extruded and add structural strength to canoe.
✔ Interior hull lining provides buoyancy, deadens noises and insulates against cold water.
✔ Side sponsons provides outstanding stability.
✔ Stock colors for all models; Birch Bark OR olive drab. Forest Green OR Red are also available.

We are not taking orders that need to be shipped for Sportspals right now.
We do have two left in our Showroom.
---
Double-Ended Canoes
---
S-12 Double-Ended Canoe


(S-12 shown with optional bench seats)

Colors available: simulated birch bark OR olive drab.
Standard equipment includes two paddles, two stowable Foam Porta Seats, two side sponson foam collars, 2 carry handles and anchor rope cleat, and a set of oar lock sockets.
Choose your Sportspal canoe with 2 Foam Porta Seats OR instead of those; 2 Padded Bench Seats.
(NOTE; optional Padded Bench Seats are HIGHLY recommended) (A third seat is optional.)
Model
Length
Beam
Inside
Beam
Outside
Weight
Carrying
Capacity
Hull
Max. HP
Seat Options
Regular Price
Sale Price
S-12
11' 7"
38"
44"
48 lbs.
500 lbs.
.032
2
2 foam porta seats
S-12
11' 7"
38"
44"
48 lbs.
500 lbs.
.032
2
2 padded bench seats
ALL Sportspal Canoe prices shown here are PLUS shipping... Shipping prices here are an estimate. We'll confirm once we have your order/address.
Zone 1; $499 (AL, AR, CT, DE, GA, IL, IN, IA, KS, KY, LA, ME, MD, MA, MI, MN, MS, MO, NE, NH, NJ, NY, NC, ND, OH, OK, PA, RI, SC, SD, TN, VA, VT, VI, WV, WI).
Zone 2; $589 (AZ, CO, TX, FL, ID, MT, NV, NM, UT, WY, Washington DC, New York City, Long Island NY).
Zone 3; $650 (CA, OR, WA).
Excludes Hawaii. -Please call or email for a shipping quote if you live in a remote area, on an island, OR Alaska (there are additional shipping charges).
NY residents add 8% sales tax.

Options for the S-12 Canoe:
---
S-14 Double-Ended Canoe


(S-14 shown above with optional padded bench seats bow and stern)

Colors available: simulated birch bark or olive drab.
Standard equipment includes two paddles, two stowable Foam Porta Seats, two side sponson foam collars, 2 carry handles and anchor rope cleat, and a set of oar lock sockets.
Choose your Sportspal canoe with 2 Foam Porta Seats OR instead of those; 2 Padded Bench Seats.
(NOTE; optional Padded Bench Seats are HIGHLY recommended) (A third seat is optional.)
Model
Length
Beam
Inside
Beam
Outside
Weight
Carrying
Capacity
Hull
Max. HP
Seat Options
Regular Price
Sale Price
S-14
13' 10"
38"
44"
58 lbs.
650 lbs.
.032
2
2 foam porta seats
S-14
13' 10"
38"
44"
58 lbs.
650 lbs.
.032
2
2 padded bench seats
ALL Sportspal Canoe prices shown here are PLUS shipping... Shipping prices here are an estimate. We'll confirm once we have your order/address.
Zone 1; $499 (AL, AR, CT, DE, GA, IL, IN, IA, KS, KY, LA, ME, MD, MA, MI, MN, MS, MO, NE, NH, NJ, NY, NC, ND, OH, OK, PA, RI, SC, SD, TN, VA, VT, VI, WV, WI).
Zone 2; $589 (AZ, CO, TX, FL, ID, MT, NV, NM, UT, WY, Washington DC, New York City, Long Island NY).
Zone 3; $650 (CA, OR, WA).
Excludes Hawaii. -Please call or email for a shipping quote if you live in a remote area, on an island, OR Alaska (there are additional shipping charges).
NY residents add 8% sales tax.

Options for the S-14 Canoe:
---
S-16 Double-Ended Canoe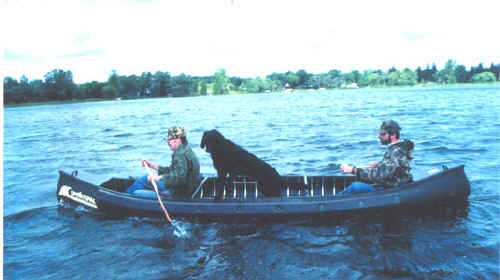 (S-16 shown above with optional padded bench seats bow and stern)

Colors available: simulated birch bark or olive drab.
Standard equipment includes two paddles, two stowable Foam Porta Seats, two side sponson foam collars, 2 carry handles and anchor rope cleat, and a set of oar lock sockets.
Choose your Sportspal canoe with 2 Foam Porta Seats OR instead of those; 2 Padded Bench Seats.
(NOTE; optional Padded Bench Seats are HIGHLY recommended) (A third seat is optional.)
Model
Length
Beam
Inside
Beam
Outside
Weight
Carrying
Capacity
Hull
Max. HP
Seat Options
Regular Price
Sale Price
S-16
15' 10"
38"
44"
69lbs.
720 lbs.
.032
2
2 foam porta seats
S-16
15' 10"
38"
44"
69lbs.
720 lbs.
.032
2
2 padded bench seats
ALL Sportspal Canoe prices shown here are PLUS shipping... Shipping prices here are an estimate. We'll confirm once we have your order/address.
Zone 1; $499 (AL, AR, CT, DE, GA, IL, IN, IA, KS, KY, LA, ME, MD, MA, MI, MN, MS, MO, NE, NH, NJ, NY, NC, ND, OH, OK, PA, RI, SC, SD, TN, VA, VT, VI, WV, WI).
Zone 2; $589 (AZ, CO, TX, FL, ID, MT, NV, NM, UT, WY, Washington DC, New York City, Long Island NY).
Zone 3; $650 (CA, OR, WA).
Excludes Hawaii. -Please call or email for a shipping quote if you live in a remote area, on an island, OR Alaska (there are additional shipping charges).
NY residents add 8% sales tax.

Options for the S-16 Canoe:
---
Square Stern Canoes
---
S-11 Square Stern Canoe




Colors available: simulated birch bark OR olive drab.
Standard equipment includes two paddles, two stowable Foam Porta Seats, two side sponson foam collars, carry handle and anchor rope cleat, and a set of oar lock sockets.
Choose your Sportspal canoe with 2 Foam Porta Seats OR instead of those; 2 Padded Bench Seats.
(NOTE; optional Padded Bench Seats are HIGHLY recommended) (A third seat is optional.)
Model
Length
Beam
Inside
Beam
Outside
Weight
Carrying
Capacity
Hull
Max. HP
Seat Options
Regular Price
Sale Price
S-11
11'
38"
44"
48 LB
500 LB
.032
2
2 foam porta seats
S-11
11'
38"
44"
48 LB
500 LB
.032
2
2 padded bench seats
ALL Sportspal Canoe prices shown here are PLUS shipping... Shipping prices here are an estimate. We'll confirm once we have your order/address.
Zone 1; $499 (AL, AR, CT, DE, GA, IL, IN, IA, KS, KY, LA, ME, MD, MA, MI, MN, MS, MO, NE, NH, NJ, NY, NC, ND, OH, OK, PA, RI, SC, SD, TN, VA, VT, VI, WV, WI).
Zone 2; $589 (AZ, CO, TX, FL, ID, MT, NV, NM, UT, WY, Washington DC, New York City, Long Island NY).
Zone 3; $650 (CA, OR, WA).
Excludes Hawaii. -Please call or email for a shipping quote if you live in a remote area, on an island, OR Alaska (there are additional shipping charges).
NY residents add 8% sales tax.

Options for the S-11 Canoe:
---
S-13 Square Stern Canoe



Colors available: simulated birch bark OR olive drab.
Standard equipment includes two paddles, two stowable Foam Porta Seats, two side sponson foam collars, carry handle and anchor rope cleat, and a set of oar lock sockets.
Choose your Sportspal canoe with 2 Foam Porta Seats OR instead of those; 2 Padded Bench Seats.
(NOTE; optional Padded Bench Seats are HIGHLY recommended) (A third seat is optional.)
Model
Length
Beam
Inside
Beam
Outside
Weight
Carrying
Capacity
Hull
Max. HP
Seat Options
Regular Price
Sale Price
S-13
13' 2"
38"
44"
57 LB
625 LB
.032
3
2 foam porta seats
S-13
13' 2"
38"
44"
57 LB
625 LB
.032
3
2 padded bench seats
ALL Sportspal Canoe prices shown here are PLUS shipping... Shipping prices here are an estimate. We'll confirm once we have your order/address.
Zone 1; $499 (AL, AR, CT, DE, GA, IL, IN, IA, KS, KY, LA, ME, MD, MA, MI, MN, MS, MO, NE, NH, NJ, NY, NC, ND, OH, OK, PA, RI, SC, SD, TN, VA, VT, VI, WV, WI).
Zone 2; $589 (AZ, CO, TX, FL, ID, MT, NV, NM, UT, WY, Washington DC, New York City, Long Island NY).
Zone 3; $650 (CA, OR, WA).
Excludes Hawaii. -Please call or email for a shipping quote if you live in a remote area, on an island, OR Alaska (there are additional shipping charges).
NY residents add 8% sales tax.

Options for the S-13 Canoe:
---
S-15 Square Stern Canoe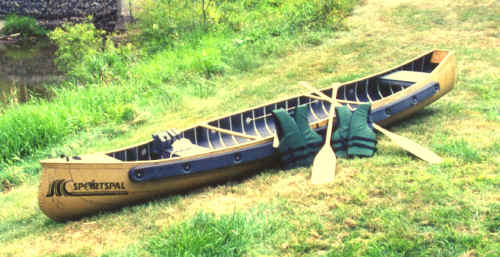 (PFD's not included)

Colors available: simulated birch bark OR olive drab.
Standard equipment includes two paddles, two stowable Foam Porta Seats, two side sponson foam collars, carry handle and anchor rope cleat, and a set of oar lock sockets.
Choose your Sportspal canoe with 2 Foam Porta Seats OR instead of those; 2 Padded Bench Seats.
(NOTE; optional Padded Bench Seats are HIGHLY recommended) (A third seat is optional.)
Model
Length
Beam
Inside
Beam
Outside
Weight
Carrying
Capacity
Hull
Max. HP
Seat Options
Regular Price
Sale Price
S-15
15' 3"
38"
44"
67 LB
705 LB
.032
5
2 foam porta seats
S-15
15' 3"
38"
44"
67 LB
705 LB
.032
5
2 padded bench seats
ALL Sportspal Canoe prices shown here are PLUS shipping... Shipping prices here are an estimate. We'll confirm once we have your order/address.
Zone 1; $499 (AL, AR, CT, DE, GA, IL, IN, IA, KS, KY, LA, ME, MD, MA, MI, MN, MS, MO, NE, NH, NJ, NY, NC, ND, OH, OK, PA, RI, SC, SD, TN, VA, VT, VI, WV, WI).
Zone 2; $589 (AZ, CO, TX, FL, ID, MT, NV, NM, UT, WY, Washington DC, New York City, Long Island NY).
Zone 3; $650 (CA, OR, WA).
Excludes Hawaii. -Please call or email for a shipping quote if you live in a remote area, on an island, OR Alaska (there are additional shipping charges).
NY residents add 8% sales tax.

Options for the S-15 Canoe:
---
X-13 Sport Boat

(X-13 wide transom shown above with padded bench seat options in bow, stern and center)


(X-13 shown above with optional padded bench seats)
Note that the position of the center bench seat in the photo above is great for a passenger but not in the right position for rowing. (If you order an optional center bench seat let us know if you want it to the rear of center for a passenger, or a bit forward of that for rowing.)
Buying an extra Foam Porta Seat for the center works well for rowing, a passenger or even solo paddling.

Colors available: simulated birch bark OR olive drab.
Standard equipment includes two paddles, two stowable Foam Porta Seats, two side sponson foam collars, carry handle and anchor rope cleat, and a set of oar lock sockets.
Choose your Sportspal canoe with 2 Foam Porta Seats OR instead of those; 2 Padded Bench Seats.
(NOTE; optional Padded Bench Seats are HIGHLY recommended) (A third seat is optional.)
Model
Length
Beam
Inside
Beam
Outside
Weight
Carrying
Capacity***
Hull
Max. HP
Seat Options
Regular Price
Sale Price
X-13
13'
38"
44"
69 LB
555 LB
.032
2
2 foam porta seats
X-13
13'
38"
44"
69 LB
555 LB
.032
2
2 padded bench seats
ALL Sportspal Canoe prices shown here are PLUS shipping... Shipping prices here are an estimate. We'll confirm once we have your order/address.
Zone 1; $499 (AL, AR, CT, DE, GA, IL, IN, IA, KS, KY, LA, ME, MD, MA, MI, MN, MS, MO, NE, NH, NJ, NY, NC, ND, OH, OK, PA, RI, SC, SD, TN, VA, VT, VI, WV, WI).
Zone 2; $589 (AZ, CO, TX, FL, ID, MT, NV, NM, UT, WY, Washington DC, New York City, Long Island NY).
Zone 3; $650 (CA, OR, WA).
Excludes Hawaii. -Please call or email for a shipping quote if you live in a remote area, on an island, OR Alaska (there are additional shipping charges).
NY residents add 8% sales tax.

*** Note: Sportspal canoes are rated by NMMA standards which are even
more strict than US or Canada Coast Guards and much more strict than the 6" freeboard capacity rating most canoe manufacturers use. If rated by 6" freeboard, capacities and motor ratings would be higher but less realistic.
Under this system, "Wide Transom" canoes are rated as "boats" and are therefore even more conservatively rated.

Common sense would argue that these craft should hold more weight than a standard canoe but the fact is that all "canoe brands" are not rated by the same testing system under the same conditions.

Options for S-13XW:
| | | | | | | | | | | | |
| --- | --- | --- | --- | --- | --- | --- | --- | --- | --- | --- | --- |
| Sportspal Motor Mount Bracket | | Sportspal Oarlock Pinset Adapters | | Deluxe SitBacker | | Sportspal Padded Gunwale Seat | | Sportspal Foam Porta Seat | | Deluxe Foam Block Cartop Kit | |