- Family owned for over 40 years -




Oak Orchard Canoe Kayak Experts




- Open year round -




www.oakorchardcanoe.com


Phone Order Hotline (10am-6pm EST) ..................(800)452-9257
email us: oakorchardcanoe@rochester.rr.com
"Waterport Store" (between Rochester and Niagara Falls)
Store Hours: M,W,TH,FR: 10am to 6pm. SAT:10am to 5pm.
2133 Eagle Harbor Waterport Rd
Waterport, NY 14571
(for gps use Albion, NY 14411)
ph; 585-682-4849
"Welcome to the BIGGEST - LITTLE canoe and kayak shop in the world"
---
World Exclusive! Oak Orchard's
STAINLESS STEEL Multi-Purpose KAYAK J-CRADLES
Fits All Factory Cross Bars - Square Bars - Lays Down Flat on Round Bars
-Removes Easily To Use As Kayak Wall Storage w/ Clip Kit.
Choose from 4 styles - Standard, SUV & Storage Only!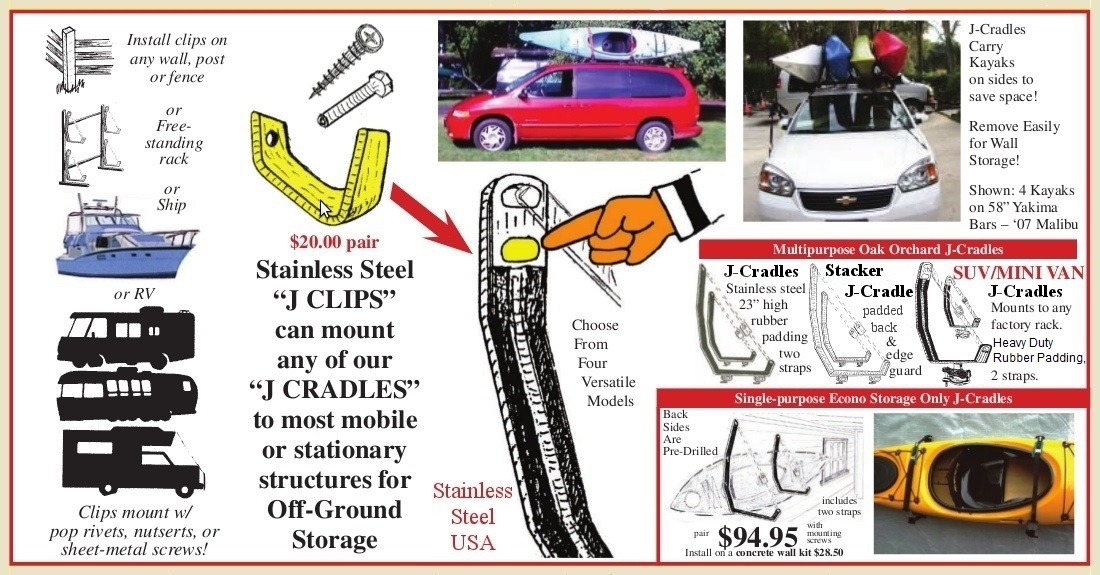 All Weather Stainless Steel (not plastic), Deluxe Rubber Padding,
Our Patented "Upside Down" - 4 Minute Easy Load - Strap System. (No Step Stool Required)
Fits All Kayaks! Short, Long, Sit-In, Sit-On! Even Tandems!
---
Order Online with your credit card
OR
Log-in and pay thru PayPal

Have More Questions?...
Place Your Order by Phone
with A Real Live Person
1-800-452-9257
10am - 6 pm EDT
Closed Tuesdays
Order Online with your credit card
OR
Log-in and pay thru PayPal

Have More Questions?...
Place Your Order by Phone
with A Real Live Person
1-800-452-9257
10am - 6 pm EDT
Closed Tuesdays

click picture to enlarge


Order Online with your credit card
OR
Log-in and pay thru PayPal

Have More Questions?...
Place Your Order by Phone
with A Real Live Person
1-800-452-9257
10am - 6 pm EDT
Closed Tuesdays
Order Online with your credit card
OR
Log-in and pay thru PayPal

Have More Questions?...
Place Your Order by Phone
with A Real Live Person
1-800-452-9257
10am - 6 pm EDT
Closed Tuesdays
Order Online with your credit card
OR
Log-in and pay thru PayPal

Have More Questions?...
Place Your Order by Phone
with A Real Live Person
1-800-452-9257
10am - 6 pm EDT
Closed Tuesdays
Order Online with your credit card
OR
Log-in and pay thru PayPal

Have More Questions?...
Place Your Order by Phone
with A Real Live Person
1-800-452-9257
10am - 6 pm EDT
Closed Tuesdays

click picture to enlarge

Order Online with your credit card
OR
Log-in and pay thru PayPal

Have More Questions?...
Place Your Order by Phone
with A Real Live Person
1-800-452-9257
10am - 6 pm EDT
Closed Tuesdays

click picture to enlarge

Order Online with your credit card
OR
Log-in and pay thru PayPal

Have More Questions?...
Place Your Order by Phone
with A Real Live Person
1-800-452-9257
10am - 6 pm EDT
Closed Tuesdays
Order Online with your credit card
OR
Log-in and pay thru PayPal

Have More Questions?...
Place Your Order by Phone
with A Real Live Person
1-800-452-9257
10am - 6 pm EDT
Closed Tuesdays



Order Online with your credit card
OR
Log-in and pay thru PayPal

Have More Questions?...
Place Your Order by Phone
with A Real Live Person
1-800-452-9257
10am - 6 pm EDT
Closed Tuesdays



Order Online with your credit card
OR
Log-in and pay thru PayPal

Have More Questions?...
Place Your Order by Phone
with A Real Live Person
1-800-452-9257
10am - 6 pm EDT
Closed Tuesdays
Order Online with your credit card
OR
Log-in and pay thru PayPal

Have More Questions?...
Place Your Order by Phone
with A Real Live Person
1-800-452-9257
10am - 6 pm EDT
Closed Tuesdays
Order Online with your credit card
OR
Log-in and pay thru PayPal

Have More Questions?...
Place Your Order by Phone
with A Real Live Person
1-800-452-9257
10am - 6 pm EDT
Closed Tuesdays
Order Online with your credit card
OR
Log-in and pay thru PayPal

Have More Questions?...
Place Your Order by Phone
with A Real Live Person
1-800-452-9257
10am - 6 pm EDT
Closed Tuesdays
Order Online with your credit card
OR
Log-in and pay thru PayPal

Have More Questions?...
Place Your Order by Phone
with A Real Live Person
1-800-452-9257
10am - 6 pm EDT
Closed Tuesdays
Order Online with your credit card
OR
Log-in and pay thru PayPal

Have More Questions?...
Place Your Order by Phone
with A Real Live Person
1-800-452-9257
10am - 6 pm EDT
Closed Tuesdays
Order Online with your credit card
OR
Log-in and pay thru PayPal

Have More Questions?...
Place Your Order by Phone
with A Real Live Person
1-800-452-9257
10am - 6 pm EDT
Closed Tuesdays
Order Online with your credit card
OR
Log-in and pay thru PayPal

Have More Questions?...
Place Your Order by Phone
with A Real Live Person
1-800-452-9257
10am - 6 pm EDT
Closed Tuesdays
Order Online with your credit card
OR
Log-in and pay thru PayPal

Have More Questions?...
Place Your Order by Phone
with A Real Live Person
1-800-452-9257
10am - 6 pm EDT
Closed Tuesdays
Order Online with your credit card
OR
Log-in and pay thru PayPal

Have More Questions?...
Place Your Order by Phone
with A Real Live Person
1-800-452-9257
10am - 6 pm EDT
Closed Tuesdays
Order Online with your credit card
OR
Log-in and pay thru PayPal

Have More Questions?...
Place Your Order by Phone
with A Real Live Person
1-800-452-9257
10am - 6 pm EDT
Closed Tuesdays
Order Online with your credit card
OR
Log-in and pay thru PayPal

Have More Questions?...
Place Your Order by Phone
with A Real Live Person
1-800-452-9257
10am - 6 pm EDT
Closed Tuesdays
Order Online with your credit card
OR
Log-in and pay thru PayPal

Have More Questions?...
Place Your Order by Phone
with A Real Live Person
1-800-452-9257
10am - 6 pm EDT
Closed Tuesdays
Order Online with your credit card
OR
Log-in and pay thru PayPal

Have More Questions?...
Place Your Order by Phone
with A Real Live Person
1-800-452-9257
10am - 6 pm EDT
Closed Tuesdays
Order Online with your credit card
OR
Log-in and pay thru PayPal

Have More Questions?...
Place Your Order by Phone
with A Real Live Person
1-800-452-9257
10am - 6 pm EDT
Closed Tuesdays
Order Online with your credit card
OR
Log-in and pay thru PayPal

Have More Questions?...
Place Your Order by Phone
with A Real Live Person
1-800-452-9257
10am - 6 pm EDT
Closed Tuesdays
Order Online with your credit card
OR
Log-in and pay thru PayPal

Have More Questions?...
Place Your Order by Phone
with A Real Live Person
1-800-452-9257
10am - 6 pm EDT
Closed Tuesdays
Order Online with your credit card
OR
Log-in and pay thru PayPal

Have More Questions?...
Place Your Order by Phone
with A Real Live Person
1-800-452-9257
10am - 6 pm EDT
Closed Tuesdays
Order Online with your credit card
OR
Log-in and pay thru PayPal

Have More Questions?...
Place Your Order by Phone
with A Real Live Person
1-800-452-9257
10am - 6 pm EDT
Closed Tuesdays
Order Online with your credit card
OR
Log-in and pay thru PayPal

Have More Questions?...
Place Your Order by Phone
with A Real Live Person
1-800-452-9257
10am - 6 pm EDT
Closed Tuesdays
Order Online with your credit card
OR
Log-in and pay thru PayPal

Have More Questions?...
Place Your Order by Phone
with A Real Live Person
1-800-452-9257
10am - 6 pm EDT
Closed Tuesdays
Order Online with your credit card
OR
Log-in and pay thru PayPal

Have More Questions?...
Place Your Order by Phone
with A Real Live Person
1-800-452-9257
10am - 6 pm EDT
Closed Tuesdays
Order Online with your credit card
OR
Log-in and pay thru PayPal

Have More Questions?...
Place Your Order by Phone
with A Real Live Person
1-800-452-9257
10am - 6 pm EDT
Closed Tuesdays
Order Online with your credit card
OR
Log-in and pay thru PayPal

Have More Questions?...
Place Your Order by Phone
with A Real Live Person
1-800-452-9257
10am - 6 pm EDT
Closed Tuesdays
Order Online with your credit card
OR
Log-in and pay thru PayPal

Have More Questions?...
Place Your Order by Phone
with A Real Live Person
1-800-452-9257
10am - 6 pm EDT
Closed Tuesdays
Order Online with your credit card
OR
Log-in and pay thru PayPal

Have More Questions?...
Place Your Order by Phone
with A Real Live Person
1-800-452-9257
10am - 6 pm EDT
Closed Tuesdays



Order Online with your credit card
OR
Log-in and pay thru PayPal

Have More Questions?...
Place Your Order by Phone
with A Real Live Person
1-800-452-9257
10am - 6 pm EDT
Closed Tuesdays



Order Online with your credit card
OR
Log-in and pay thru PayPal

Have More Questions?...
Place Your Order by Phone
with A Real Live Person
1-800-452-9257
10am - 6 pm EDT
Closed Tuesdays
Order Online with your credit card
OR
Log-in and pay thru PayPal

Have More Questions?...
Place Your Order by Phone
with A Real Live Person
1-800-452-9257
10am - 6 pm EDT
Closed Tuesdays
Order Online with your credit card
OR
Log-in and pay thru PayPal

Have More Questions?...
Place Your Order by Phone
with A Real Live Person
1-800-452-9257
10am - 6 pm EDT
Closed Tuesdays
Order Online with your credit card
OR
Log-in and pay thru PayPal

Have More Questions?...
Place Your Order by Phone
with A Real Live Person
1-800-452-9257
10am - 6 pm EDT
Closed Tuesdays



Order Online with your credit card
OR
Log-in and pay thru PayPal

Have More Questions?...
Place Your Order by Phone
with A Real Live Person
1-800-452-9257
10am - 6 pm EDT
Closed Tuesdays
Order Online with your credit card
OR
Log-in and pay thru PayPal

Have More Questions?...
Place Your Order by Phone
with A Real Live Person
1-800-452-9257
10am - 6 pm EDT
Closed Tuesdays



Order Online with your credit card
OR
Log-in and pay thru PayPal

Have More Questions?...
Place Your Order by Phone
with A Real Live Person
1-800-452-9257
10am - 6 pm EDT
Closed Tuesdays
Order Online with your credit card
OR
Log-in and pay thru PayPal

Have More Questions?...
Place Your Order by Phone
with A Real Live Person
1-800-452-9257
10am - 6 pm EDT
Closed Tuesdays



Order Online with your credit card
OR
Log-in and pay thru PayPal

Have More Questions?...
Place Your Order by Phone
with A Real Live Person
1-800-452-9257
10am - 6 pm EDT
Closed Tuesdays
Order Online with your credit card
OR
Log-in and pay thru PayPal

Have More Questions?...
Place Your Order by Phone
with A Real Live Person
1-800-452-9257
10am - 6 pm EDT
Closed Tuesdays



Order Online with your credit card
OR
Log-in and pay thru PayPal

Have More Questions?...
Place Your Order by Phone
with A Real Live Person
1-800-452-9257
10am - 6 pm EDT
Closed Tuesdays
Order Online with your credit card
OR
Log-in and pay thru PayPal

Have More Questions?...
Place Your Order by Phone
with A Real Live Person
1-800-452-9257
10am - 6 pm EDT
Closed Tuesdays



Order Online with your credit card
OR
Log-in and pay thru PayPal

Have More Questions?...
Place Your Order by Phone
with A Real Live Person
1-800-452-9257
10am - 6 pm EDT
Closed Tuesdays
Order Online with your credit card
OR
Log-in and pay thru PayPal

Have More Questions?...
Place Your Order by Phone
with A Real Live Person
1-800-452-9257
10am - 6 pm EDT
Closed Tuesdays
Order Online with your credit card
OR
Log-in and pay thru PayPal

Have More Questions?...
Place Your Order by Phone
with A Real Live Person
1-800-452-9257
10am - 6 pm EDT
Closed Tuesdays



Order Online with your credit card
OR
Log-in and pay thru PayPal

Have More Questions?...
Place Your Order by Phone
with A Real Live Person
1-800-452-9257
10am - 6 pm EDT
Closed Tuesdays
Order Online with your credit card
OR
Log-in and pay thru PayPal

Have More Questions?...
Place Your Order by Phone
with A Real Live Person
1-800-452-9257
10am - 6 pm EDT
Closed Tuesdays



Order Online with your credit card
OR
Log-in and pay thru PayPal

Have More Questions?...
Place Your Order by Phone
with A Real Live Person
1-800-452-9257
10am - 6 pm EDT
Closed Tuesdays
Order Online with your credit card
OR
Log-in and pay thru PayPal

Have More Questions?...
Place Your Order by Phone
with A Real Live Person
1-800-452-9257
10am - 6 pm EDT
Closed Tuesdays
Order Online with your credit card
OR
Log-in and pay thru PayPal

Have More Questions?...
Place Your Order by Phone
with A Real Live Person
1-800-452-9257
10am - 6 pm EDT
Closed Tuesdays



Order Online with your credit card
OR
Log-in and pay thru PayPal

Have More Questions?...
Place Your Order by Phone
with A Real Live Person
1-800-452-9257
10am - 6 pm EDT
Closed Tuesdays
Order Online with your credit card
OR
Log-in and pay thru PayPal

Have More Questions?...
Place Your Order by Phone
with A Real Live Person
1-800-452-9257
10am - 6 pm EDT
Closed Tuesdays



Order Online with your credit card
OR
Log-in and pay thru PayPal

Have More Questions?...
Place Your Order by Phone
with A Real Live Person
1-800-452-9257
10am - 6 pm EDT
Closed Tuesdays
Order Online with your credit card
OR
Log-in and pay thru PayPal

Have More Questions?...
Place Your Order by Phone
with A Real Live Person
1-800-452-9257
10am - 6 pm EDT
Closed Tuesdays



Order Online with your credit card
OR
Log-in and pay thru PayPal

Have More Questions?...
Place Your Order by Phone
with A Real Live Person
1-800-452-9257
10am - 6 pm EDT
Closed Tuesdays
Order Online with your credit card
OR
Log-in and pay thru PayPal

Have More Questions?...
Place Your Order by Phone
with A Real Live Person
1-800-452-9257
10am - 6 pm EDT
Closed Tuesdays
Order Online with your credit card
OR
Log-in and pay thru PayPal

Have More Questions?...
Place Your Order by Phone
with A Real Live Person
1-800-452-9257
10am - 6 pm EDT
Closed Tuesdays
Order Online with your credit card
OR
Log-in and pay thru PayPal

Have More Questions?...
Place Your Order by Phone
with A Real Live Person
1-800-452-9257
10am - 6 pm EDT
Closed Tuesdays
Order Online with your credit card
OR
Log-in and pay thru PayPal

Have More Questions?...
Place Your Order by Phone
with A Real Live Person
1-800-452-9257
10am - 6 pm EDT
Closed Tuesdays
Order Online with your credit card
OR
Log-in and pay thru PayPal

Have More Questions?...
Place Your Order by Phone
with A Real Live Person
1-800-452-9257
10am - 6 pm EDT
Closed Tuesdays
Order Online with your credit card
OR
Log-in and pay thru PayPal

Have More Questions?...
Place Your Order by Phone
with A Real Live Person
1-800-452-9257
10am - 6 pm EDT
Closed Tuesdays
Order Online with your credit card
OR
Log-in and pay thru PayPal

Have More Questions?...
Place Your Order by Phone
with A Real Live Person
1-800-452-9257
10am - 6 pm EDT
Closed Tuesdays
Order Online with your credit card
OR
Log-in and pay thru PayPal

Have More Questions?...
Place Your Order by Phone
with A Real Live Person
1-800-452-9257
10am - 6 pm EDT
Closed Tuesdays
Order Online with your credit card
OR
Log-in and pay thru PayPal

Have More Questions?...
Place Your Order by Phone
with A Real Live Person
1-800-452-9257
10am - 6 pm EDT
Closed Tuesdays
Order Online with your credit card
OR
Log-in and pay thru PayPal

Have More Questions?...
Place Your Order by Phone
with A Real Live Person
1-800-452-9257
10am - 6 pm EDT
Closed Tuesdays
Order Online with your credit card
OR
Log-in and pay thru PayPal

Have More Questions?...
Place Your Order by Phone
with A Real Live Person
1-800-452-9257
10am - 6 pm EDT
Closed Tuesdays
Order Online with your credit card
OR
Log-in and pay thru PayPal

Have More Questions?...
Place Your Order by Phone
with A Real Live Person
1-800-452-9257
10am - 6 pm EDT
Closed Tuesdays
Order Online with your credit card
OR
Log-in and pay thru PayPal

Have More Questions?...
Place Your Order by Phone
with A Real Live Person
1-800-452-9257
10am - 6 pm EDT
Closed Tuesdays
Order Online with your credit card
OR
Log-in and pay thru PayPal

Have More Questions?...
Place Your Order by Phone
with A Real Live Person
1-800-452-9257
10am - 6 pm EDT
Closed Tuesdays
Order Online with your credit card
OR
Log-in and pay thru PayPal

Have More Questions?...
Place Your Order by Phone
with A Real Live Person
1-800-452-9257
10am - 6 pm EDT
Closed Tuesdays
Order Online with your credit card
OR
Log-in and pay thru PayPal

Have More Questions?...
Place Your Order by Phone
with A Real Live Person
1-800-452-9257
10am - 6 pm EDT
Closed Tuesdays
Order Online with your credit card
OR
Log-in and pay thru PayPal

Have More Questions?...
Place Your Order by Phone
with A Real Live Person
1-800-452-9257
10am - 6 pm EDT
Closed Tuesdays
Order Online with your credit card
OR
Log-in and pay thru PayPal

Have More Questions?...
Place Your Order by Phone
with A Real Live Person
1-800-452-9257
10am - 6 pm EDT
Closed Tuesdays