- Family owned for over 40 years -




Oak Orchard Canoe Kayak Experts




- Open year round -




www.oakorchardcanoe.com


Phone Order line (10am-6pm EST) ..................(800)452-9257
"Waterport" (between Rochester and Niagara Falls) ........... (585)682-4849
"Rochester" (on beautiful Irondequoit Bay) .............................. (585)288-5550
email us: oakorchardcanoe@rochester.rr.com
"Welcome to the BIGGEST - LITTLE canoe and kayak shop in the world"

Nova Craft Canoes



Nova Craft uses two versions of Tuff Stuff. We have found thru experience that either version really is "Tuff Stuff".
We have found their lighter Tuff Stuff to be more durable when compared to other brands.
Tuff Stuff Expedition is even thicker for true wilderness expeditons, or those who run rapids frequently.
Kevlar Skid Plates may be added to any Nova Craft canoe.
Kevlar Skid Plates are available in a Do-it-yourself kit, or you may have them professionally installed by Oak Orchard.
Kevlar Skid Plates add a tremendous amount of abrasion protection and impact resistance to the ends of the canoe.

NOTICE... The company that makes the Royalex material for NOVACRAFT and all other canoe brands has stopped production.
Royalex is great material for canoes which we have sold for many years. The time to purchase is now while we still have a few Royalex canoes available.

Shipping ?
we can ship some of our CANOES to some States.....
....please call ph;(585) 682-4849 or email us for a quote.

Click here for more details.

Did you know? ...OUR new NOVACRAFT Canoes have a limited LIFETIME WARRANTY.



---

This Chestnut Canoe was originally built with the outdoorsman of the early 1900s in mind. The mission was to design a craft that would enable outdoorsmen to paddle small creeks as well as large lakes and be small enough to get through the then nonexistent portage trails at the same time. To meet these unique needs, The Chestnut Canoe Company brought something efficient yet maneuverable into production.
For the modern canoeist, both the primary and secondary stability of The Trapper are reassuring, though its stability does not sacrifice its speed. It has lots of space, for everything from a day of fishing to a week of tripping in the back country. It is a great canoe to use for improving your "J" stroke and can also be used with a double blade paddle. The Trapper combines the enjoyment of a stable fishing platform with the benefits of a small and light craft for portaging into secret lakes and ponds.



NOVA
CRAFT

SHIPPING!


If you do not have a specialty paddlesports store with good selection and service in your area...

Call or email us with your address for a shipping quote.

Call 1-800-452-9257 to order.



* * * * * * * * * * * * * *

Hull
- shallow arch
- slight rocker
- symmetrical

Beam
- 34"

Weights
- Fiberglass - 45 lbs.
- Tuff Stuff - 38 lbs.
- Tuff Stuff Exp - 40 lbs.
- Aramid Lite - 29 lbs.
- Blue Steel - 33 lbs.

Depth
- Midship 13"
- Bow 18"

Length
- 12'

Capacity
- 490 lbs.

NOVA
CRAFT

WARRANTY

* * * * * * * * * * *


Did you know? ...
OUR new


NOVA CRAFT CANOES


have a limited
LIFETIME WARRANTY
* * * * * * * * * * *


QUALITY
---
FOX 14' Solo

NOVA
CRAFT

SHIPPING!


If you do not have a specialty paddlesports store with good selection and service in your area...

Call or email us with your address for a shipping quote.

Call 1-800-452-9257 to order.



* * * * * * * * * * * * * *

Our new Fox 14 is an ideal choice for solo paddlers looking for independent adventures on flatwater lakes and lazy rivers. Its shorter length and minimal rocker give this canoe a good balance of tracking and turning characteristics. At 14' the Fox is the perfect size for a relaxing evening paddle around the lake but still large enough to fit enough gear for a week-long trip into the backcountry. The narrow width makes this a faster, efficient design helping you cover distance with ease and its shallower depth catches less wind. This narrower design also accommodates soloists who prefer cruising around using a kayak paddle. Slight tumblehome on the sides helps for easier paddle strokes and the shallow arch bottom gives the paddler a stable feel but still allows for leaning the boat over to paddle Canadian-style. Of course the Fox's small size and light weight make it easy to get on and off the car by yourself. The Fox 14 will get solo paddlers into the tranquility of nature with a beautiful balance of ease and performance.



Hull
- Shallow arch bottom
- Modest rocker
- Symmetrical hull
- Slight Tumblehome

Beam
32"

Weights
- Fiberglass - 49 lbs.
- Tuff Stuff - 42 lbs.
- Tuff Stuff Exp - 48 lbs.
- Aramid Lite - 32 lbs.
- Blue Steel - 38 lbs.

Depth
- Midship 13"
- Bow 19"

Length
- 14'

Capacity
- 550 lbs.

NOVA
CRAFT

WARRANTY

* * * * * * * * * * *


Did you know? ...
OUR new


NOVA CRAFT CANOES


have a limited
LIFETIME WARRANTY
* * * * * * * * * * *


QUALITY
---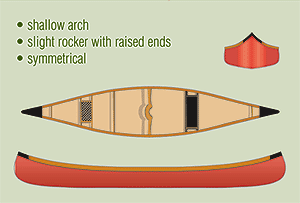 Since Nova Craft introduced this canoe its popularity has been remarkable. The hull based on the Chestnut Canoe Co.'s famous Bob Special with some improvements to increase speed. It has a shallow arch bottom, tumblehome and a slight rocker which makes it a joy to paddle solo. While it is ideally suited as a tandem day tripper, it's capacity makes it large enough to handle a weekend canoe trip. Faster than most 15' canoes the Bob Special is a great canoe with classic lines.
Available in fiberglass, Tuff Stuff or Tuff Stuff Expedition.


NOVA
CRAFT

SHIPPING!


If you do not have a specialty paddlesports store with good selection and service in your area...

Call or email us with your address for a shipping quote.

Call 1-800-452-9257 to order.



* * * * * * * * * * * * * *

Hull
- shallow arch
- shoe keel with raised ends
- symmetrical

Beam
35"

Weights
- Fiberglass - 58 lbs.
- Tuff Stuff - 49 lbs.
- Tuff Stuff Exp - 56 lbs.
- Aramid Lite - 39 lbs.
- Blue Steel - 45 lbs.

Depth
- Midship 13"
- Bow 21"

Length
- 15'

Capacity
- 800 lbs.

NOVA
CRAFT

WARRANTY

* * * * * * * * * * *


Did you know? ...
OUR new


NOVA CRAFT CANOES


have a limited
LIFETIME WARRANTY
* * * * * * * * * * *


QUALITY
---
PAL


The Nova Craft "Pal"
Nova Craft has been faithful to the lines of the original to produce a modern canoe that is indeed a pleasure to paddle.
A perfect blend of stability, tracking and glide makes the PAL a winner for day trips or extended trips with a load.
The PAL is available in Royalex Lite as well as composite hull materials.
Although the Pal is quite capable in rapids it does provide better tracking and glide than the Prospector or the Bob Special. The Pal is a blast solo or tandem, with or without gear!
Another proven classic canoe design from NovaCraft -made with the best modern materials available!
"EVERYBODY NEEDS A PAL"


NOVA
CRAFT

SHIPPING!


If you do not have a specialty paddlesports store with good selection and service in your area...

Call or email us with your address for a shipping quote.

Call 1-800-452-9257 to order.



* * * * * * * * * * * * * *

Hull
- shallow arch
- slight rocker
- symmetrical

Beam
34"

Weights
- Fiberglass - N/A.
- Tuff Stuff - 52 lbs.
- Tuff Stuff Exp - 58 lbs.
- Aramid Lite - 39 lbs.
- Blue Steel - 45 lbs.

Depth
- Midship 13"
- Bow 20"

Length
- 16'

Capacity
- 800 lbs.

NOVA
CRAFT

WARRANTY

* * * * * * * * * * *


Did you know? ...
OUR new


NOVA CRAFT CANOES


have a limited
LIFETIME WARRANTY
* * * * * * * * * * *


QUALITY
---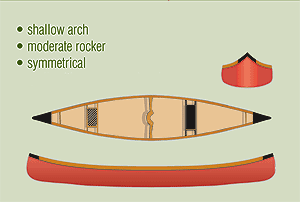 An all new extension of the famous Prospector line, the Prospector 15 delivers a ton of performance in a scaled down package. The Prospector 15 is nice and stable for leisurely pursuits but has lots of secondary stability to handle rougher waters. Possessing the all round easy handling characteristics of the Prospector family, this little gem is perfect for day trips, weekend getaways or responsive solo and tandem whitewater fun.




NOVA
CRAFT

SHIPPING!


If you do not have a specialty paddlesports store with good selection and service in your area...

Call or email us with your address for a shipping quote.

Call 1-800-452-9257 to order.



* * * * * * * * * * * * * *

Hull
- shallow arch
- moderate rocker
- symmetrical
- capable tandem or solo
(specify with shoe keel OR without)

Beam
- 36"

Weights
- Fiberglass - 62 lbs.
- Tuff Stuff - 54 lbs.
- Tuff Stuff Exp - 57 lbs.
- Aramid Lite - 42 lbs.
- Blue Steel - 47 lbs.
- SP3 Poly- 79 lbs. {14' 10"}

Depth
- Midship 15"
- Bow 23"

Length
- 15'

Capacity
- 850 lbs.

NOVA
CRAFT

WARRANTY

* * * * * * * * * * *


Did you know? ...
OUR new


NOVA CRAFT CANOES


have a limited
LIFETIME WARRANTY
* * * * * * * * * * *


QUALITY
---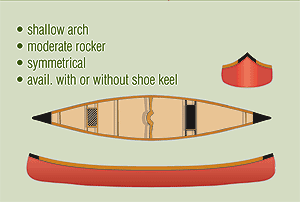 Originally designed by the Chestnut Canoe Co. in 1910, the Prospector has to be the greatest wilderness tripping canoe of all time. Nova Craft has been faithful to the original design. The Prospector has good sharp entry lines for speed but the ends flare out quickly to float the bow over waves. The canoe is stable, but sensitive to leans for carving turns whether paddling tandem or solo. The moderate rocker in the keel line allows quick pivoting and sideslipping in rapids. There is no better canoe for lakes, rivers, whitewater rapids, and wilderness trips. Other canoes may be more specialized to do a particular thing well but none can match the Prospector for all types of canoeing!
Available in fiberglass, Tuff Stuff, Tuff Stuff Expedition, or SP3 poly.


NOVA
CRAFT

SHIPPING!


If you do not have a specialty paddlesports store with good selection and service in your area...

Call or email us with your address for a shipping quote.

Call 1-800-452-9257 to order.



* * * * * * * * * * * * * *

Hull
- shallow arch
- moderate rocker
- symmetrical
- capable tandem or solo
(specify with shoe keel OR without)

Beam
- 36"

Weights
- Fiberglass - 66 lbs.
- Tuff Stuff - 54 lbs.
- Tuff Stuff Exp - 60 lbs.
- Aramid Lite - 46 lbs.
- Blue Steel - 50 lbs.
- SP3 Poly- 85 lbs. {15' 4"}

Depth
- Midship 15"
- Bow 23"

Length
- 16'

Capacity
- 1000 lbs.

NOVA
CRAFT

WARRANTY

* * * * * * * * * * *


Did you know? ...
OUR new


NOVA CRAFT CANOES


have a limited
LIFETIME WARRANTY
* * * * * * * * * * *


QUALITY
---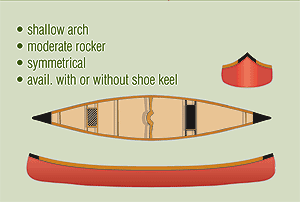 The increased size and load carrying capacity and classic lines make the Prospector 17 the ultimate extended wilderness tripping canoe. The extra volume lets you run large rapids and stay dry even when loaded with gear. It has a slight rocker for maneuverability in whitewater but tracks well on longer sections of flatwater. When your winter dreams turn into summer adventures on big waters like Lake Superior, or down a river to the Hudson Bay, the Prospector 17 makes a reliable companion.
Available in fiberglass, Tuff Stuff, Tuff Stuff Expedition, or SP3 poly.


NOVA
CRAFT

SHIPPING!


If you do not have a specialty paddlesports store with good selection and service in your area...

Call or email us with your address for a shipping quote.

Call 1-800-452-9257 to order.



* * * * * * * * * * * * * *

Hull
- shallow arch
- moderate rocker
- symmetrical
- capable tandem or solo
(specify with shoe keel OR without)

Beam
- 36"

Weights
- Fiberglass - 70 lbs.
- Tuff Stuff - 60 lbs.
- Tuff Stuff Exp - 65 lbs.
- Aramid Lite - 46 lbs.
- Blue Steel - 54 lbs.
- SP3 Poly- 99 lbs. {16' 10"}

Depth
- Midship 15"
- Bow 23"

Length
- 17'

Capacity
- 1200 lbs.

NOVA
CRAFT

WARRANTY

* * * * * * * * * * *


Did you know? ...
OUR new


NOVA CRAFT CANOES


have a limited
LIFETIME WARRANTY
* * * * * * * * * * *


QUALITY