- Family owned for over 40 years -




Oak Orchard Canoe Kayak Experts




- Open year round -




www.oakorchardcanoe.com


Phone Order line (10am-6pm EST) ..................(800)452-9257
"Waterport" (between Rochester and Niagara Falls) ........... (585)682-4849
"Rochester" (on beautiful Irondequoit Bay) .............................. (585)288-5550
email us: oakorchardcanoe@rochester.rr.com
"Welcome to the BIGGEST - LITTLE canoe and kayak shop in the world"
We have heard that if you're not sure if you will like kayaking then you should go to your nearest box store and buy the cheapest thing you can find.
After all, why spend TONs of money on something you will "never" use? -We say don't bother... don't even buy a kayak at all.
We have rentals and even FREE Try-Before-You-Buy at both our stores.
Every day at Oak Orchard Canoe Kayak Experts we show people that have never even been in a kayak how much fun and how easy it can be... (or how disappointing it can be -depending on which kayak you try).
YES, even beginners can feel the difference from one kayak to another.
This is especially true at the low end, where spending just another $50 or $100 can provide twice the FUN.
Come to our store and we'll PROVE IT.

---
Argo 100x EXO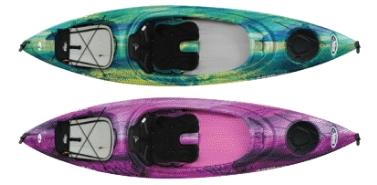 New for 2021, Pelican takes the popular 10ft Argo sit inside kayak to another level.
Available in our vibrant "Boreal" OR "Stardust" colors.
Before you buy that floating disaster at the Box store you should at least stop in to see what we can offer.
Visit our store and we'll get you out on the water in an affordable kayak that you will actually enjoy.

Features:
• Durable Ram-X hull
• Adjustable oversize footpegs
• Stern storage well with bungees
• Forward storage hatch.
• Adjustable padded backrest
• Bow and stern carrying handles
• Padded seat


| | | |
| --- | --- | --- |
| Model | Argo 100x EXO | Argo 100x EXO Angler |
| Length | 10' | 10' |
| Beam | 28" | 28" |
| Depth | 14" | 14" |
| Cockpit width | 25" | 25" |
| Cockpit length | 49" | 49" |
| Weight | 38 lb | 38 lb |
| Max. capacity | 275 lb | 275 lb |
| Hull material | RAM-X | RAM-X |
---
Argo 100XR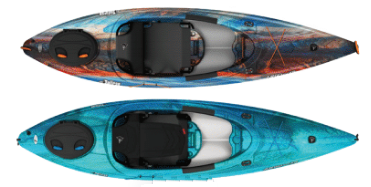 Pelican makes the popular Argo 100XR as thier top of the line sit inside style kayak.
The Argo 100XR is designed to be more stable, more comfortable AND more durable than other Pelican models.
Not all Pelican kayaks are in the Pelican Premium line.
The Pelican Premium Argo 100XR is built on a twin-arched multi chine hull platform providing great stability
and tracking while offering impressive acceleration and speed for its size.
This sit-in kayak features adjustable footrests, premium knee pads and the ERGOFIT G2 Seating System™ for increased comfort
and to maintain an efficient paddling position, a quick lock storage hatch and a 4 in. day hatch with storage bag,
a storage platform with mesh deck cover to store your personal items, a smart phone holder and ergonomic carrying handles.
Made of RAM-X PREMIUM, a multi-layer polyethylene with an advanced resin providing significantly more rigidity than standard polyethylene,
it is lighter, stiffer and stronger.
Visit our store and we'll get you out on the water in an affordable kayak you'll actually enjoy.

Features:
• Extra Rugged Ram-X Premium hull
• Adjustable oversize footpegs
• Stern storage well with bungees
• Forward Quick Lock storage hatch.
• Center 4" day hatch and storage bag.
• Adjustable padded backrest
• Bow and stern carrying handles
• Knee Pads
• ERGOFIT G2 Seating System™


| | | |
| --- | --- | --- |
| Model | Argo 100XR | Argo 100XR Angler |
| Length | 10' | 10' |
| Beam | 29" | 29" |
| Depth | 14" | 14" |
| Cockpit width | 25" | 25" |
| Cockpit length | 49" | 49" |
| Weight | 38 lb | 38 lb |
| Max. capacity | 300 lb | 300 lb |
| Hull material | Ram-X PREMIUM | Ram-X PREMIUM |
---
Strike

The Strike is an all-new Pelican Premium sit-on-top kayak featuring a wide and stable platform.
Check out the newly developed ErgoFlex seating system for All Day Comfort.
The Strike has a good tracking hull and moves along easily.
It's the best value in its class.

Features:
• Extra Rugged Ram-X premium hull
• Paddle tie-down
• Adjustable oversize footpegs
• Bow and stern carrying handles
• ErgoFlex seating system




| | | |
| --- | --- | --- |
| Model | Strike 100x | Strike 120x |
| Length | 10' | 12' |
| Beam | 30.5" | 30" |
| Depth | 16" | 15" |
| Cockpit | open | open |
| Weight | 49 lb | 53 lb |
| Max. capacity | 325 lb | 350 lb |
| Hull material | RAM-X PREMIUM | RAM-X PREMIUM |
---
Strike Angler

The Strike 100x Angler is an all-new Pelican Premium sit-on-top fishing kayak featuring a wide and stable platform.
Check out the newly developed ErgoFlex seating system for All Day Comfort.
The Strike 100x Angler has a good tracking hull and moves along easily.
Angler features help you stay on the fish all day long.
It's the best value in its class.

Features:
• Extra Rugged Ram-X premium hull
• Paddle tie-down
• Adjustable oversize footpegs
• Bow and stern carrying handles
• Adjustable rod holder
• Two flush mount rod holders
• ErgoFlex seating system




| | | |
| --- | --- | --- |
| Model | Strike 100x angler | Strike 120x angler |
| Length | 10' | 12' |
| Beam | 30.5" | 30" |
| Depth | 16" | 15" |
| Cockpit | open | open |
| Weight | 53 lb | 59 lb |
| Max. capacity | 325 lb | 350 lb |
| Hull material | RAM-X PREMIUM | RAM-X PREMIUM |
---
Enforcer 100x angler


Pelican makes the popular Enforcer 100x as thier top of the 10ft line sit-on-top Angler kayak.
The Enforcer 100x Angler is designed to be more stable, more comfortable AND more durable than other Pelican models.
Not all Pelican kayaks are in the Pelican Premium line.
The Pelican Premium ENFORCER 100X is a self-bailing fishing kayak engineered for comfort, stability and speed.
Built on a multichine flat bottom hull, this 10 ft sit-on-top angler kayak is designed for safety on larger bodies of water
and to handle any kind of fishing conditions. It offers ample storage for your fishing gear and a large deck space to land larger fish.
The ENFORCER 100X features adjustable footrests, the ERGOSTRONG Seating System, front and middle quick lock hatches
for easy access to your fishing gear, a storage platform with bungee cord, swivel and flush mount rod holders, paddle tie-downs,
multiple accessory eyelets and an angler ruler.
Made of RAM-X PREMIUM, a multi-layer polyethylene with an advanced resin providing significantly more rigidity than standard polyethylene,
the Pelican ENFORCER 100X ANGLER is built to last for many kayak tight lined fishing expeditions.
Backed by our limited Lifetime Warranty, it is the perfect all around fishing kayak.
Visit our store and we'll get you out on the water in an affordable kayak you'll actually enjoy.

Features:
• ERGOSTRONG Seating System™
• Adjustable footbraces
• Knee pads
• 4 accessory eyelets
&bull: Storage platform with bungee cords
• Quick Lock hatches
• Bow and stern Ergonomic carry handles
• Angler ruler
• 2 flush mount rod holders
• Swivel rod holder
• Water bottle holder
• Drain plug.



| | |
| --- | --- |
| Length | 10' |
| Beam | 30.5" |
| Depth | 16" |
| Cockpit | open |
| Weight | 49 lb |
| Max. capacity | 325 lb |
| Hull material | Ram-X PREMIUM |
---
the Catch

The Catch is an all-new Pelican Premium fishing kayak featuring a wide and flat platform.
Check out the newly developed ErgoCast dual position seating system for All Day Comfort.
The Catch has a super stable tunnel hull and is the best value in its class.

Features:
• Extra Rugged Ram-X premium hull
• Quick Lock storage hatch
• Paddle tie-down
• Adjustable oversize footpegs
• Stand-up leash
• Bow and stern carrying handles
• Scotty rod holder tracks (dealer installed option)
• Two flush mount rod holders
• ErgoCast dual position seating system




| | | |
| --- | --- | --- |
| Model | The Catch 100 | The Catch 120 |
| Length | 10' | 11' 8" |
| Beam | 34" | 34" |
| Depth | 15" | 15" |
| Cockpit | open | open |
| Weight | 58 lb | 69 lb |
| Max. capacity | 350 lb | 400 lb |
| Hull material | RAM-X PREMIUM | Ram-X PREMIUM |
---
Argo 136x EXO tandem kayak
Reliable. Stable. Durable.
New for 2021, the Argo 136x EXO tandem kayak is built
on a multi-chine flat bottom hull platform
that provides maximum stability,
reduced drag and improved cruising speed.
Its uniquely designed cockpits are equipped with
adjustable foot pegs and easy-access molded-in cockpits.
Padded Seats, a stern storage hatch
and water bottle holders round out the package.

Features:
• Rugged Ram-X hull
• Stern storage hatch
• Adjustable footbraces
• Elastic bungee cords on bow deck
• Elastic bungee cords on stern hatch
• Water bottle holders
• Bow and stern carrying handles
• Deluxe ErgoForm Adjustable Padded Backrest
• Deluxe ErgoBase Padded Seat
• Molded skeg for durability and tracking




| | |
| --- | --- |
| Model | Argo 136x EXO tandem |
| Length | 13' 6" |
| Beam | 31.75" |
| Depth | 15" |
| Cockpit width | 26" |
| Cockpit length | 102" |
| Weight | 64 lb |
| Max. capacity | 500 lb |
| Hull material | RAM-X |
---