- Family owned for over 40 years -




Oak Orchard Canoe Kayak Experts




- Open year round -




www.oakorchardcanoe.com


Phone Order Hotline (10am-6pm EST) ..................(800)452-9257
email us: oakorchardcanoe@rochester.rr.com
"Waterport Store" (between Rochester and Niagara Falls)
Store Hours: M,W,TH,FR: 10am to 6pm. SAT:10am to 5pm.
2133 Eagle Harbor Waterport Rd
Waterport, NY 14571
(for gps use Albion, NY 14411)
ph; 585-682-4849
"Welcome to the BIGGEST - LITTLE canoe and kayak shop in the world"
W A L L S T O R A G E F O R Y O U R K A Y A K S!


Go ahead, compare Oak Orchard's "Kayak Storage J-Cradle" made from Heavy Duty Stainless Steel with thick rubber padding
against competitors' bent 1" steel pipes with a cheap sleeve OR those awkward strap hangers! Yuk!
Same proven shape as our original Multi-Purpose J-CRADLES, but at a reduced price for kayak storage only. Designed to hold a single, tandem OR sit-on-top kayak.
Can be mounted to a studded wall, post or even a concrete block wall with optional TapCon® concrete screws! Add $28.50 for a set of 8 TapCons®, concrete drill bit and the TapCon® driver. Best installed with a hammer drill (not included).
Don't have a wall to store your kayaks on? - Click here to see our outdoor Kayak Tree.
$16.95 shipping & Handling one set; to 48 states
$8.95 Shipping & Handling per each additional set
New York State residents add 8% sales tax
$16.95 shipping & Handling one set; to 48 states
$8.95 Shipping & Handling per each additional set
New York State residents add 8% sales tax

Back side of our Kayak Storage J-Cradle is pre-drilled
for 3 mounting screws, OR see our optional "Wall Mount Clips".


We've had customers make their own back yard "kayak tree" using our "J-Cradles".
Some mount them to RV - trailer sides, post, tree and big power yachts!
Deluxe Thick Rubber Padding!
2.5" inch wide, thick rubber padded area will hold your boat carefully. Not like competitors flimsy round 1" pipe with a cheap sleeve covering! Check them out... but purchase ours!
The typical garage wall can hold 3 to 4 kayaks high using Oak Orchard's J-STORAGE CRADLES.
Easy one person load - No dangerous ropes, pulleys or 2-3 people to load and pull.
Order our KAYAK STORAGE J-CRADLES, today!

Notice the upper section of padding is purposely not adhered. Pull aside the padding in this section to reveal the pre-drilled mounting screw holes! Easy huh?? Weight Limit?? If you can lift it, our stainless steel wall J-Cradle will hold it. Beware of competitors light duty, one inch round 1" tubing J's with a cheap sleeve covering.

Optional
Tapcon® Screw Package
for use on a concrete block wall. (Includes drill bit, TapCon® driver and 8 screws.)
$28.50 $3.00 shipping & handling to 48 States
New York State residents add 8% sales tax
Order Online with your credit card
OR
Log-in and pay thru PayPal

Have More Questions?...
Place Your Order by Phone
with A Real Live Person
1-800-452-9257
10am - 6 pm EDT
Closed Tuesdays


From the people who know and love kayaking...


World Exclusive! Oak Orchard's

STAINLESS STEEL Multi-Purpose KAYAK J-CRADLES

Fits All Factory Cross Bars - Square Bars - Lays Down Flat on Round Bars
-Removes Easily To Use As Kayak Wall Storage w/ Clip Kit. Choose from 4 styles - Standard, SUV & Storage Only!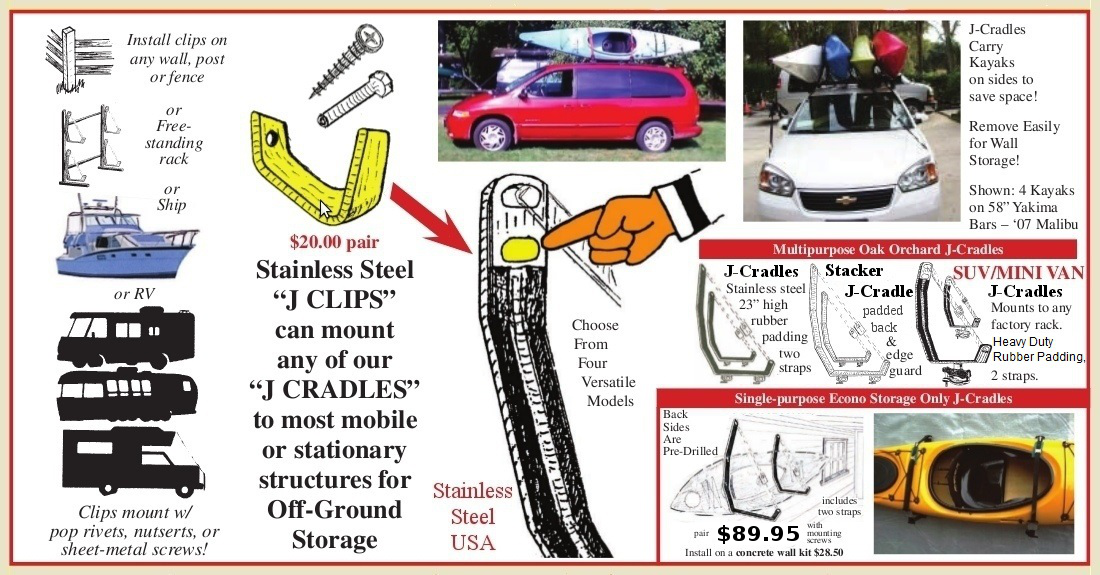 All Weather Stainless Steel (not plastic), Deluxe Rubber Padding,
Our Patented "Upside Down" - 4 Minute Easy Load - Strap System. (No Step Stool Required)
Fits All Kayaks! Short, Long, Sit-In, Sit-On! Even Tandems!