Style #1 Deluxe
Mounts just inside the tailgate against the flat-vertical sidewall. (Basic Style #1 requires trucks with a flange)
---
Style #1 Deluxe (For all newer trucks with an open box.)
Style #1 Basic (For older trucks with a flange sidewall. ie: older Toyota, Nissan, Chevy S-10, Ford Ranger, Jeep.)
---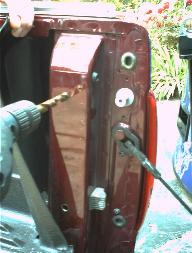 Installation is simple!
First stand the upright on the floor, against the flat side wall area near the tailgate. Drill mark through the holes with 1/4" bit. Remove the screws holding in your tail-light assembly and "visually" align those marks and the inside cavity of the tail-lights. There should not be anything that would impede your drilling the two holes into this area. Start with a 1/4 inch bit on the bottom hole, then open this up to a hole just large enough to fit the plus-nut. You are now ready to install the plus-nuts with the tool kit supplied!



CAPACITY 200LBS.
The style #1 deluxe mount at work holding a 180 pound kayak salesman!(right)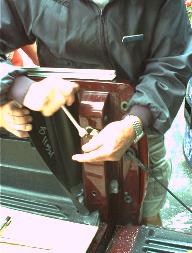 Insert the nutsert tool into the hole and tighten it up using the wrench provided or a socket.
Unscrew the nutsert tool and then run the bolt thru the upright
and into the Nutsert (only finger tight).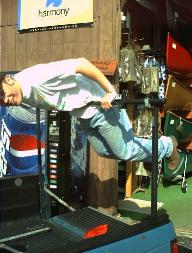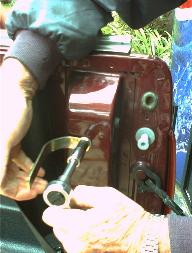 Now, drill mark the sidewall for the second nutsert installation.
Swing the upright out of your way and finish drilling the second hole.
Now, swing upright up and insert and tighten the second bolt. Tighten both!

OK, almost there...
just connect the crossbar, put on the end caps (and any accessories)
and you're Done!





Optional 78" bars are available
for those who want
to carry two canoes at once.
Carry 3 kayaks side by side with 78" wide bar.