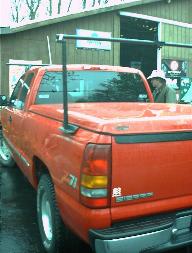 Here's a Chevy with a fiberglass cover that
extends over the bed rails --our Custom Silverado/sierra "Formed" base plates and #2 uprights fit perfect! Very solid for up to two canoes or multiple kayaks.
Style #2 is compatible with hard or soft tonneau covers & caps.
#2 uprights are 1 inch square HD steel with a black finish; complimenting the appearance of your truck.
Will not shake, rattle - like competitors folding in the box style.
Carry up to 2 canoes OR up to four kayaks.


Be sure to tie down EACH end of your canoe or kayak to EACH corner of your bumber (or to hood loops on each side).
Also, tie your craft down at each crossbar or rack.
This way your craft is secured to the rack, as well as secured to the vehicle.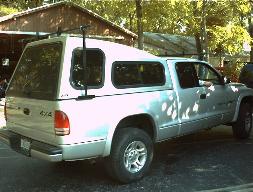 Here's a Dodge truck with a cap that's really high in the back. We used our standard flat base plates and extra tall uprights.
(our standard uprights are about the same height as the Q Tower rack on the cab)
(Yakima "Q" Tower is sold separately.)